Mobile use globally differs massively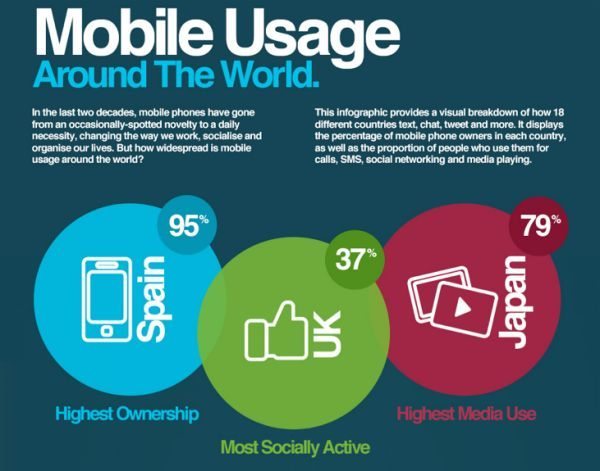 The use of mobile phones around the world differs massively between the various countries and continents, with text, call and data usage fluctuating greatly around the world.
A visual representation of mobile phone use created by Lebara shows that, across the globe, how people use their handsets varies a lot.
For example, social networking on mobiles is far more prevalent in the UK than anywhere else in Europe. But Middle East nations such as Jordan, Lebanon and Egypt also show high mobile social networking figures.
More Mexicans use their phones to text than call, and people in Japan are most likely to use their mobiles as media players. And the Chinese population owns more mobiles per capita than neighbour Japan, but just 1% use their handheld for social networking.
Spain has the highest level of mobile ownership at 95%, followed by Jordan at 94%, China at 93% and the UK at 92%. The lowest ownership rate is in Pakistan at 52%, followed by India at 56% and Mexico at 63%.
The infographic, created from data collected by Pew Research Center and the United Nations, also illustrates growth in mobile phone ownership over the last decade.
In Europe, Russia has seen the biggest increase in subscriptions between 2001 and 2011 at 3205%. In Africa & Middle East Tunisia leads the growth at 3,084%, in the Americas it is Brazil at 750% and in Asia, and leading the overall table, Pakistan saw a massive 14,564% growth.
Comparing continents for call, SMS and data usage, Asia has the highest call usage at 99%, but the lowest data usage at 42%. Europe and the Americas have strong usage for each aspect. Such figures likely reflect the differences in price plans and the prevalence of contract versus pay-as-you-go billing models.
The infographic paints a clear picture of how mobile technology has changed and transformed our lives and impacted the way we live, work and play. The significant differences in how people in different countries use their phones demonstrate the acceleration and variation in the mobile revolution and shows how mobiles are used for a variety of reasons.
Please take a look at the infographic below.
Infographic by Lebara