Motorola Droid Ultra anonymity, surely the Moto X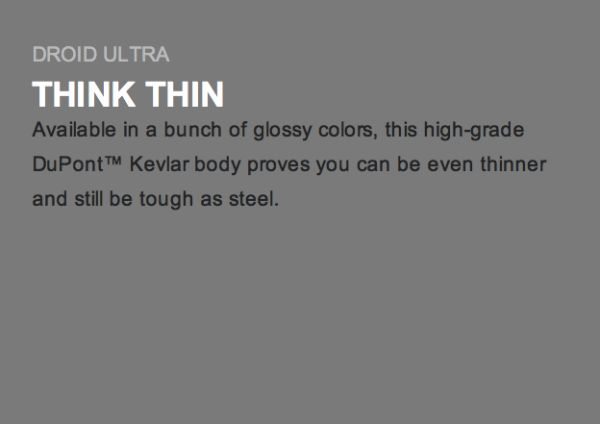 There is a new Motorola landing page showing off the new Droid Ultra, now this is is an anonymity because the specs shown on the site are the same as the Motorola RAZR M.
The screenshot we have provided below via the Motorola landing page here says Droid Ultra "THINK THIN", it also says it will be available in a bunch of glossy colors, and that it will be made with high-grade DuPont Kevlar body, which proves you can be even thinner and still be tough as steel.
The more we are writing this the more we are starting to wonder if this new device is the Moto X Phone, take no notice of the specs shown because these are not for the new Motorola DROID ULTRA series.
The page is obviously under construction and they are just re-using and editing the RAZR M page, so new specifications and photos will be up soon enough we hope.
The Motorola MOTO X phone is said to come with 1.7GHz dual-core MSM8960 Pro, 10MP rear camera, 2MP front camera, 2GB of RAM as well as 16GB internal memory and running Android 4.2.2 Jelly Bean operating system. We hope this is not true and better specs are included.
Do you think this Droid Ultra landing page is gearing up to show off the new MOTO X phone? Let the comments begin.