Motorola X phone visually hinted again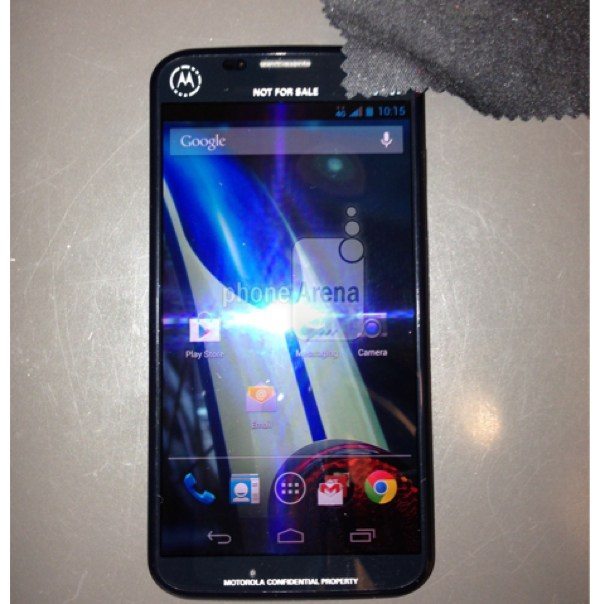 We first heard speculation of a Motorola X phone some months ago, and it's fair to say that this is a highly anticipated smartphone. At various points it has also been dubbed the Google X Phone and Moto X, and many Android device enthusiasts were hoping it would have been finally unveiled by now. We've seen plenty of leaks lately, and now the Motorola X phone has been visually hinted again.
The last that we heard about a release date for the Motorola X was that it would be launched by October at the latest. However, we recently informed readers that some accessories for a phone titled the Moto X were already listed, and that led us to wonder if we may see it arrive sooner than expected. The latest date we've seen bandied around for a release is August 1, but that's not official. Now a leaked image (see below) has emerged of a device called the Motorola XT1056 that is currently being tested for the Sprint 4G LTE network.
The source of this leak claims this is the elusive Motorola X phone, and this ties in with recent talk of a Sprint model of the phone that appeared at the FCC, along with what appeared to be the Motorola X for AT&T and Verizon. We've heard many rumored specs now for the Motorola X, and we have to say it's been difficult to pin anything down as many of the leaked specs have differed so far.
However, the display of the Motorola handset in the image is said to be approximately 4.6-inches. It's also claimed that the phone is running Android 4.2.2 Jelly Bean, has a removable battery, and 16GB of internal memory, and this ties in with the latest set of leaked specs that we detailed. These included a 1.7GHz Qualcomm Snapdragon MSM8960 Pro dual-core processor, a 4.7-inch 720p display, 2GB of RAM, 16GB of internal storage, a 10-megapixel rear camera and 2-megapixel front-facing shooter, but remember none of this is confirmed yet.
From the amount of leaks we've seen lately, we feel there's a good chance that the image is indeed the rather enigmatic Motorola or Moto X phone, although we cannot verify that just yet. We'd appreciate your thoughts on this. Would you be pleased if this were the real deal? Are you waiting for the Motorola X phone release? Why not send us your comments to let us know.
Source: Phone Arena