Windows RT 8.1 and new Surface to push Store apps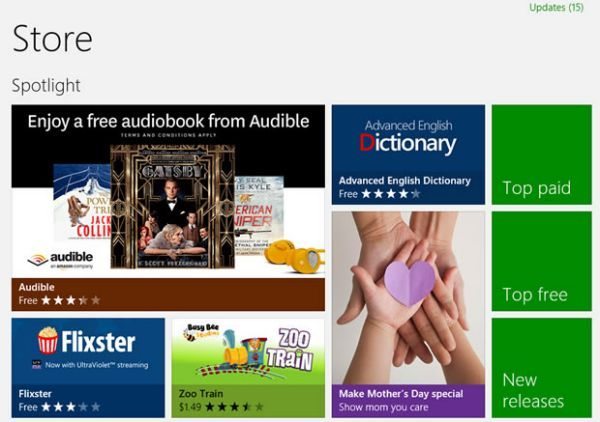 The Windows 8 Store has now surpassed the 100,000 app milestone and even though not as big as Google Play or the App Store it is starting to climb at a fast rate, the news came via a Tweet on Twitter saying, "Thanks for a great \\build! Just passed 100k apps in the Windows Store,' which is great news.
Even though the number has only surpassed 100,000 it has been said to be growing at a faster rate than its competitors when they first started, in just seven months to accumulate 100,000 apps is very decent indeed.
Tom Warren via The Verge hit on something very interesting, he said the App Store took around 14-months to gain 100,000 iPad apps and Android 18-months, so this means the Windows 8 Store is growing at a rapid rate.
Thanks for a great \\build! Just passed 100k apps in the Windows Store.

— Windows App Builders (@windevs) July 1, 2013
Microsoft are massive when it comes to the developer ecosystem and Windows 8 apps will be gaining at a large rate, more and more apps are making their way onto the store such as Rhapsody, OpenTable, Foursquare, Facebook and Flipboard, it may have taken a while to get there but they are starting to make ground on providing more apps for Windows 8 customers.
It would be good for Microsoft to releases its own version of Microsoft Office suite with Windows 8 modern design and interface included; this would look stunning on a tablet device.
Now all we need is for Microsoft to release a new Surface tablet with a Qualcomm chipset and Windows RT 8.1 on board. Thanks to The Verge you can watch the Windows RT 8.1 preview below, at the BUILD conference it was a shame that Windows Phone 8.1 was not announced, but they did unveil Windows 8.1 for PC's and tablets running on Windows.
Windows 8.1 on tablets is great and now all that needs to happen is the Windows 8.1 phone update with a few new releases, once this happens then the app store will grow even faster than it already is.