Samsung Galaxy S4 Active two part visual review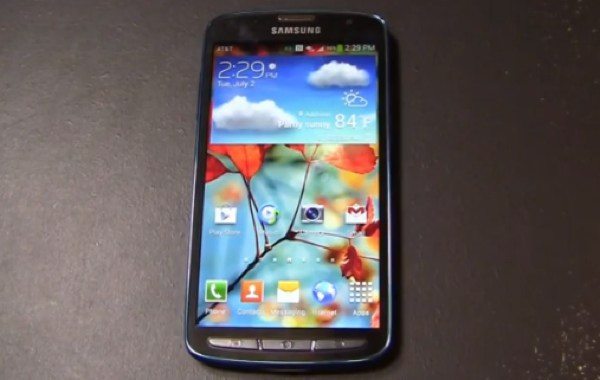 The Samsung Galaxy S4 Active has recently released and is currently finding its place in the market. The S4 Active is a more rugged variety of the standard Galaxy S4, and it's dust and water-resistant and also includes an Aqua Mode camera feature. Today we have a Samsung Galaxy S4 Active two-part visual review to share with you.
In total these YouTube videos offer a 15-minute look at the Galaxy S4 Active to give you a really good all round look at the device. Before you view though, you may want a recap on some of the major specs and features of this phone. The S4 Active is powered by a 1.9GHz Qualcomm Snapdragon 600 quad-core processor, has Adreno 320 graphics, and a 5-inch display with resolution of 1920 x 1080 and 441 ppi. It also has 2GB of RAM, 16GB of internal storage (expandable via microSD to 64GB), a 2600 mAh battery, and LTE support.
The camera set-up consists of an 8-megapixel rear camera with autofocus, LED flash, and 1080p video capture, as well as a 2-megapixel front-facing camera. It runs the Android 4.2.2 Jelly Bean operating system, skinned with Samsung's TouchWiz UI, and it also includes many features such as Smart stay, Smart pause, Smart Scroll and S Voice. It comes in Urban Grey, Dive Blue, and Orange Flare color options.
The S4 Active has a slightly different design to the standard S4, and is also thicker and heavier. Another thing we should point out is that the rear camera is 8-megapixels rather than the 13-megapixel camera on the standard S4, and it also lacks some of the software features of the S4.
The video reviews below look at some of these differences in a bid to find out if the tradeoff is worth it. The second part of the video review also looks at speed tests, network speed tests and more. Ultimately the Galaxy S4 Active is deemed as a great choice for those who are hard on their phones, but why not check out both of the videos for the full details and verdict.
We'd be interested to hear your thoughts on the Samsung Galaxy S4 Active. Have you been wondering whether to opt for the Galaxy S4 Active or the standard Galaxy S4? Which one do you feel would suit your needs best? Let us know with your comments.