Samsung Galaxy Note 2 vs Galaxy S4 Active video review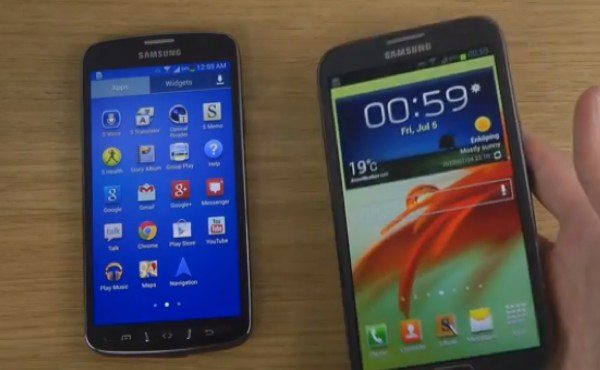 There is such a huge choice of impressive smartphones on the market that it can be difficult to decide on the right device for you. For fans of Samsung Android smartphones it might come down to whether you favor a large display or whether aspects such as waterproofing are important to you. With that in mind we have a video review to share with you today about the Samsung Galaxy Note 2 vs. Galaxy S4 Active.
Obviously different smartphone factors are important to different consumers. It used to be the case for example, that display sizes were all pretty similar, but the original Galaxy Note started the trend for 'phablet' devices with larger displays. The hugely popular Galaxy Note 2 released last year, following its predecessor with an even larger display.
Lately some of the top smartphones have also been followed up with a dust and waterproof variety. Hence the Galaxy S4 Active, which is really a more rugged version of the Galaxy S4 with these qualities. Before you look at the video review below, we'll give you a brief rundown on some of the key specs of each of the Galaxy Note 2 and Galaxy S4 Active.
The Galaxy Note 2 has a 1.6GHz Exynos quad-core processor, Mali-400MP graphics, a 5.5-inch display with resolution of 1280 x 720, 2GB of RAM, and 16, 32 or 64GB of internal storage (expandable via microSD). It also has an 8-megapixel rear camera, 1.9-megapixel front-facing camera, LTE, and a 3100 mAh battery, and it runs the Android 4.1.1 Jelly Bean operating system, upgradeable to 4.1.2. One of the highlights of the Galaxy Note 2 is the use of the S Pen stylus.
On the other hand the Galaxy S4 Active packs a 1.9GHz Qualcomm Snapdragon 600 quad-core processor, Adreno 320 graphics, a 5-inch display with 1920 x 1080 resolution, 2GB of RAM, and 16GB of internal memory (expandable via microSD). The S4 Active also carries an 8-megapixel rear camera featuring Aqua Mode, a 2-megapixel front-facing shooter, LTE, and a 2600 mAh battery, and this one runs Android 4.2.2 Jelly Bean. A key highlight of this phone is that it is dust and water resistant to IP67 standard.
Obviously we cannot list all of the plentiful specs and features of these phones, but the 11-minute YouTube video of the Galaxy Note 2 vs. Galaxy S4 Active that we have embedded below this story will show you a lot more. It begins with a good look at the designs of both of the phones and shows the S Pen stylus of the Note 2, and goes on to compare factors such as the displays, features, and much more. We won't give away too much as it may spoil your enjoyment of the video, but the review offers a good look at the key aspects of these phones.
Both the Samsung Galaxy Note 2 and Samsung Galaxy S4 Active are top-notch devices, and if you particularly want a phablet or a waterproof smartphone your choice may be easily made between the two. For others though, the review could help you decide what is most important to you. We'd really like to hear your thoughts on these two phones that both have something different to offer, so do let us have your comments on this.