iPad Hold case helps pressure strain on fingers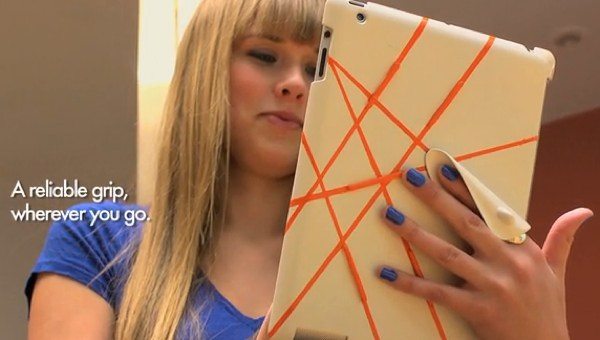 There are some great accessories on the market for smartphones and tablets, but there's always room for more. We've come across a rather unusual iPad case called Hold, that is currently a Kickstarter project. If enough funding is raised then it will go into production, and the idea behind the iPad hÅŒld case is that it can help to combat pressure strain on fingers.
We always enjoy bringing news about Kickstarter projects, as we've seen some really innovative ideas develop from the site. Some of our recent articles involving Kickstarter products were about the Invisible Gamepad, a SLiM stand for iPad, and a smartphone recording device, to name just a few. The new hÅŒld for iPad case not only offers protection, but is said to enable a comfortable, ergonomic way to hold the tablet device.
Some people find that holding a tablet device can cause them to suffer from pressure strain on the fingers, along with hand or arm strain. The hÅŒld case aims to alleviate this, making your tablet experience more relaxing. The hÅŒld never needs to be taken off the iPad and is a protective case that also features Finger Curves with left and right-handed rails. It has six rails that allow for several orientations including portrait and landscape and it's also compatible to use with Apple iPad Smart Covers.
It also features Slide and Lock technology, and for a clear look at how it works, please check out the video that we've embedded for you below this story. The funding target for the hÅŒld iPad case is $70,000, and at the time of writing $771 has been raised so far. However, the deadline is not until August 14, so there's plenty of time yet. You can find out more at Kickstarter here.
We'd like to know what you think about the hÅŒld for iPad case. Is this a product that interests you? Maybe you like the idea so much that you might become a backer? Let us have your comments about the hÅŒld.