Gothia Cup 2013 app with tournament schedule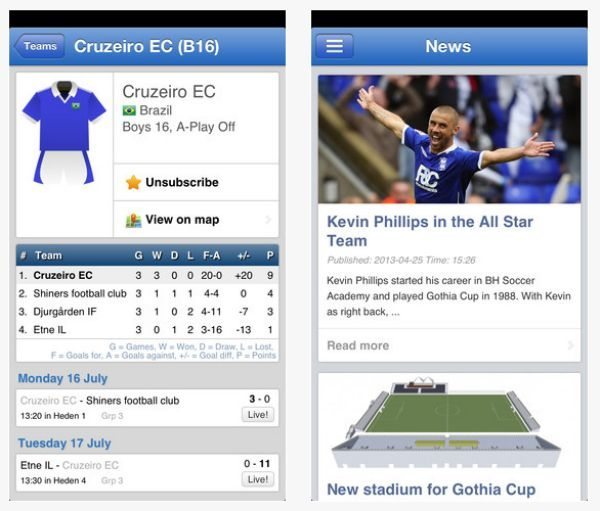 The World Youth Cup in your pocket is available in form of a mobile app; you can download this application to your iOS or Android device. The app has been out a a while now, but considering the Gothia Cup 2013 is now underway we thought we would remind you.
For those that do not know anything about the Gothia Cup it is a youth football tournament that is held in Gothenburg, Sweden, the games are played by 11 to 19 year old boys and girls. This is the world's largest football tournament, back in 2011 there was a total of 35,200 players from 1567 teams and 72 nations participated.
The official Gothia Cup allows users to keep track of 1600 teams from 80 nations that participate, the app has a stunning design and push notifications are sent for your favorite teams.
The app also shows the whole tournament schedule, other features include regulation and information, latest news, week program, Web-TV and so much more. If you visit the app once it will not require Internet connection the second time, if you wish to be updated with the schedule and all results you will need Internet connection.
Gothia Cup 2013 will be played between 14 and 20 July, the first playoff started yesterday at 13:50 – What do you think of Gothia Cup 2013?
If you are watching the Gothia Cup matches please do let us know who you will be following, this is very exciting and many matches will bring a smile to the supporters face.
Download Gothia Cup 2013 – Android / iOS