Inside mobile phone addiction, are you addicted?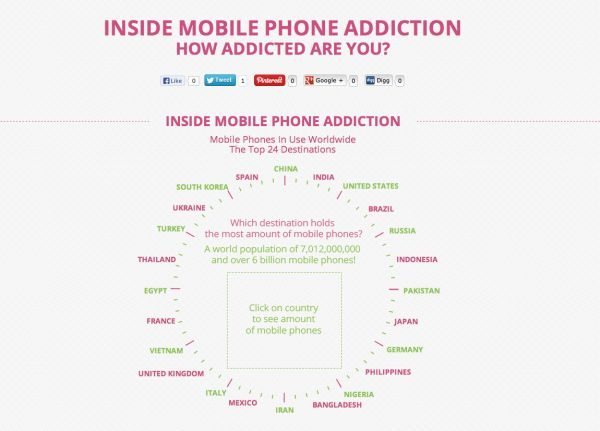 As the world keeps populating it is evident that more mobile phones are being purchased and being used minute-by-minute, and even second by second. Many people are now dependent on their smartphones that they live their lives by it, so much so that is has become an addiction.
As destination population grows so does the popularity in mobile phone purchases, out of the top 24 world ranking destinations China is by far ahead of all over destinations on the map. To learn more about how each destination compares and how people are addicted take a look at the inside mobile phone addiction interactive infographic by Dialtosave, love the way you can click on each field that shows more information about that topic. (Link Below)
It is clear to see that mobile and cell phone users around the world are obsessed, be it morning or night people do depend on their phones. Think about how technology has advanced over time, with a smartphone you can run your finances on the go, you can organise your social activities, you can book just about anything and you can learn/interact through the access of apps; educational resources are on your fingertips.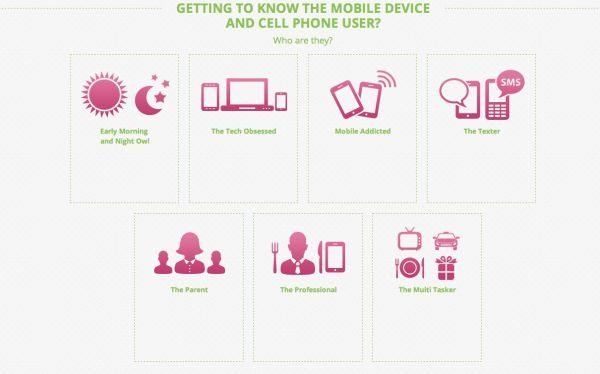 Mobile technology is connecting people in more ways than one, and it is good to be cautious about how dependent you are on this advancement. Safeguarding your phone is important, restricting access and securing privacy settings is crucial. You never know when your phone may be hijacked so make sure you secure your phone sooner rather than later and possibly insure it.
One thing that all people should be aware of is obsessive phone use can cause medical health problems, so get to know the symptoms and causes of smartphone addiction. Beware of any anxiety, depressive and panic attacks after use of a mobile phone, as it may be a sign of the addiction setting in. Many people encounter fatigues, headaches and Asthenopia because the repetitive use of motions on a phone. A healthier phone life can be implemented it just takes a little action and restraint.
Mobiles in the world we live in today are great pieces of technology and the latest handsets are in demand so the level of phone use will never end. You can communicate with people abroad as if they were in the room next door, the gadgets and accessories available are innovative and the access to quick information is remarkable.
As The Dialtosave interactive infographic shows there is constant demand worldwide for mobile call use. If you fancy learning some new foreign translations then check out the section on how the world operates through mobile calling and start greeting internationally on your next call abroad, "Buonasera" — Good evening in Italian!
The Interactive Infographic comes courtesy of Jenny Ann via the dialtosave international call team.