July's coolest HTC One cases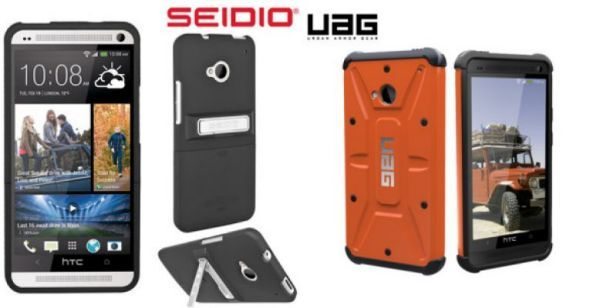 Today we're going to take a look at some of the latest cases for the HTC One, new for the hot and sunny summer months. We'll be looking for the cool cases that provide more than the average – whether that's a killer price point, amazing protection or just a neat look. Let's get started.
5. dBrand Textured Front and Back Cover Skin
The HTC One looks cool with its aluminium description, but it's not to everyone's tastes. This textured front-and-back cover/skin from dBrand is a nice alternative, offering the look and feel of black or silver titanium. The skins are made from adhesive-free 3D vinyl, ensuring that your One isn't noticeably thicker or heavier than it was out of the box. These vinyls don't impact NFC or wireless charging either, so both will continue to work as normal. A nice inexpensive way of changing the look of your HTC One.
4. Power Jacket for HTC One with Cover
Here's a rather practical one – the Power Jacket is a protective case wedded to an external battery. The Power Jacket provides a monstrous extra 3800 mAh of battery power to your HTC One, granting you more than double the battery life of the standard One. The case looks surprisingly good too, necessarily adding a few millimeters here and there but still maintaining a slick look. The case also includes a front cover, which protects the screen and holds your credit cards too. Finally, there's even a kickstand on the back. If you're looking for the ultimate all-in-one case, this is the one to get.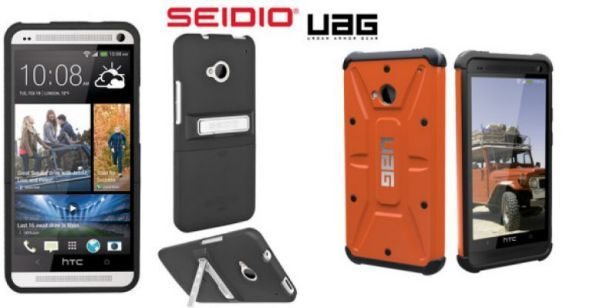 3. Incipio Feather Case for HTC One
The Incipio Feather Case takes a different tack, with a minimal look and a dramatically thin outline. The Feather Case is available in plenty of different colours too, ensuring a radically different and eye-catching look for your One. These feather cases don't offer as much protection as more bulky cases, but still provide moderate scratch protection and minor impact protection.
2. UAG Protective Case for HTC One
Again going the other way with it, these UAG Protective Cases for the One provide a good amount of protection, thanks to layers of TPU and a brushed metal insert. The case looks good too, particularly the white colour option which reminds me of stormtroopers from Star Wars.
1. Seidio Surface Case with Kickstand
Our final case is the Seidio Surface, which is a nice balanced, moderate case. No matter what aspect you look at – whether it's the slim design, the helpful kickstand, the conservative but handsome looks, or the reasonable price, you won't be disappointed. If you're not sure what case to get, then this is one of the safest options that ticks all the boxes.
Hope you like at least one of these HTC One cases. Thanks very much for reading the article. Now, it's time for me to drink some iced coffee and cool down! Just visit Mobile Fun where you can buy these cases from, thanks.