BlackBerry Q5 vs Q10 in preferred choice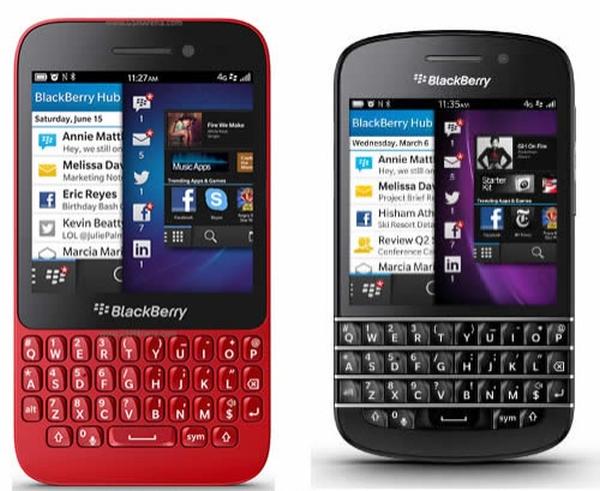 BlackBerry has always been famous for their handsets that use physical QWERTY keyboards and this year we have seen two new handsets that are running the company's new mobile operating system become available. Luckily these can be purchased at different price levels so today we are looking at the BlackBerry Q5 vs. Q10 in a preferred choice.
The BlackBerry Q10 has been around for a number of weeks now with the device impressing in our hands on review of the smartphone, while the BlackBerry Q 5 has only more recently started to become available.
Obviously the Q10 has the better specifications of the two devices along with a more premium build quality, but the Q5 doesn't look too bad even though it has a more plastic feel to it. This is reflected in the handsets weight with the Q10 weighing in at 139grams compared to the Q5 that tips the scales at 120grams. The Q10 measures in at 119.6mm x 66.8mm x 10.4 mm compared to the Q5 at 120mm x 66mm x 10.8 mm.
The displays are pretty similar coming in at 3.1-inches on both devices with the same 720 x 720 resolution, but the Q10 has an AMOLED screen while the Q5 uses an IPS LCD display. Both handsets are powered by a dual core processor but the Q10 is running at a 1.5GGHz clock speed compared to 1.2GHz, and both devices pair this with 2GB of RAM.
Camera wise the more expensive of the two handsets has an 8-megapixel main camera that is capable of 1080p video capture, while the Q5 has a 5-megapixel rear facer that is also capable of Full HD video recording. Both handsets feature 2-megapixel front facers that are capable of 720p video capture.
Surprisingly the BlackBerry Q5 has the bigger 2,180 mAh battery compared to the 2,100 mAh unit on the Q10. The BlackBerry Q10 can cost around £200 more than the Q5 and while some say it is all about the specs we wondered if this is true.
Which handset do you prefer?