iOS 7 beta 4 prefigured for release today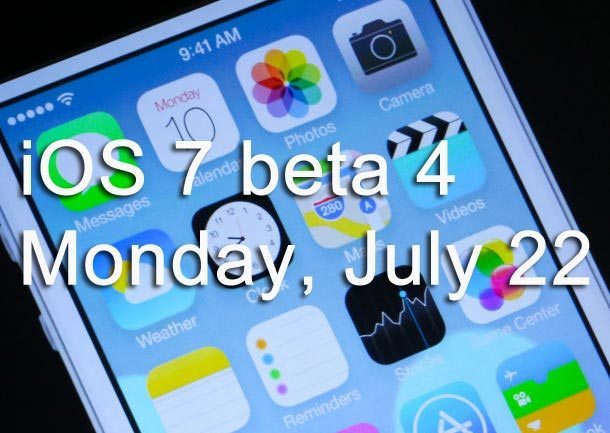 This is just a quick notice for our readers to remind those of you waiting on iOS 7 beta 4, which is predicted to release today if the 2-week gap happens again. We know there hasn't been as much proof as with the previous update, so the July 22 date is basically expected after looking at the past pattern and likelihood of iOS 7 beta 4 going up for download if you have developer access. So-called insiders haven't confirmed this rumor this time around, so we currently have our doubts.
We only just touched on crashing problems in iOS 7 beta 3 on the iPhone 4S and iPhone 5, which also happened in previous versions but are expected to a certain degree by our in-house developer. We noted iOS 7 beta 3 improved on the iPhone 4S getting hot and fixed some minor bugs with iPhone 5, although we have since noted that the iPhone 4S crashes to a black screen a lot.
New fixes in iOS 7 beta 4 with problems sticking — we look forward to seeing what is fixed but anyone using iOS 7 beta to test apps on their iPad, iPhone 4S, 4 or 5 should assume problems will still exist thanks to this software being a couple of months away from public utilization.
The iOS 7 updates to beta 3 have not really offered any major new features since the original launch, and while there have been a few changes we expect some new features to be added in the coming betas that might even include iOS 7 beta 4 if it sees a release later today. We don't have a release time or any official confirmation of a launch, although the previous download just appeared.
What problems are you experiencing that need a fix in iOS 7 beta 4? Hit the comments below, and remember to share issues with the type of device being used from an iPhone 5, 4S or iPad etc. The instant the next update is live you can be sure our readers will share this fact, but we'll be sure to let our readers also know so keep up with Phones Review as we deliver updates.