Nexus 7 2 price and design seemingly revealed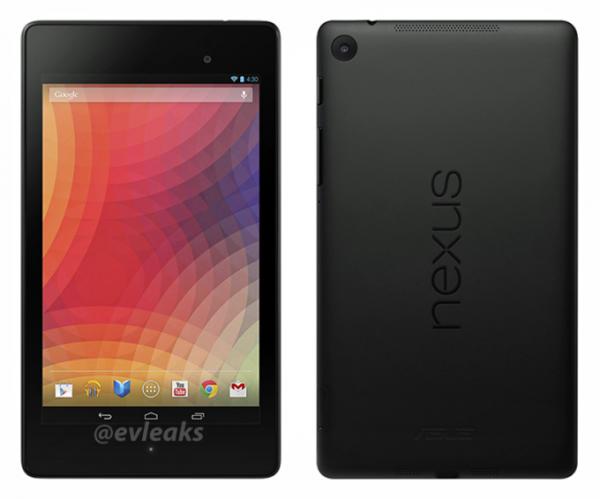 The Nexus 7 that was released by Asus and Google last year has reached its first birthday this month, and of course for a while now various rumours and leaks have hinted at a new model being released at anytime. Now a Nexus 7 2 price and design have seemingly been revealed with the device expected to be launched in a couple of days time.
Google are widely expected to announce the second generation of the Nexus 7 this coming Wednesday in San Francisco, and we have already seen some hints at the pricing and specs with retailers expected to receive the device in the coming days.
Now serial tipsters @evleaks that have a pretty solid track record in terms of leaking images of mobile devices before they are announced officially have tweeted the image that you can see on this page.
What seems like a real press shot of the new Nexus 7 fits in with previous images and video that we have already seen of the device, and shows the branding on the rear of the tablet. Two speakers can also be seen on the back at the top and bottom of the device, which is along with the rear facing camera that is believed to be 5-megapixels.
Around the front there is the front facing shooter with a notification LED with the device looking like it has Android 4.3 on board, and while the press images haven't confirmed any specs for the new Nexus 7 a Best Buy ad that has been found by Phone Arena does.
The website has found a Best Buy ad that is listing the 16GB version of the Nexus 7 2 that confirms the device has a 1920 x 1200 display with pricing set at $229. The ad is reportedly set to roll next week with availability believed to begin on July 30th.
We will soon get to find out for sure what the new version of the Nexus 7 will be bringing to the table, and as we have already reported if the old version sees its price cut further it could impact sales of some of the competition.
Will you be getting the new Nexus 7?