New Nexus 7 2 pleasing specs and arrival date hints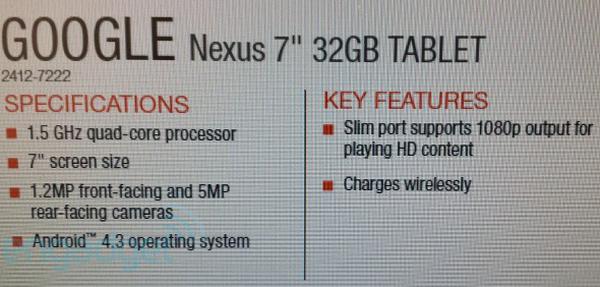 There has been growing evidence in the last few weeks that the Android platform is about to be treated to a new piece of Nexus hardware along with another version of the mobile operating system. Now some new hints suggest the arrival date of the Nexus 7 2 along with its specs.
We have already seen the device in a video but a new leak is suggesting that retailer Staples will begin receiving inventory of the second generation Nexus 7 on July 24th. This is the same day that the Google press event is taking place, but the actual release date seems to be July 31st.
This leak mentions New Nexus 7 inventory and goes into details on how the device will be displayed but stock must be kept under lock and key until the 31st of July. It does reveal that a demo unit will arrive on July 26th and the new device is down to have "superior specs all the way around with some other new exciting features we can't talk about yet".
The specifications for the Nexus 7 2 are listed as a 7-inch display with a quad core processor clocked at 1.5GHz, 32GB of on board storage, 5-megapixel rear facing camera, 1.2-megapixel front facer, and Android 4.3 Jelly Bean.
We have heard all of these specs before but some nice new ones have been thrown into the mix that include wireless charging and a Slim Port that will provide 1080p HD video out. If this leak does prove to be accurate there is still the chance that the New Nexus 7 device could go on sale earlier via the Google Play Store.
There has already been hints of the devices pricing being slightly above the current model, which could then see a bigger price cut than what has already been seen for the device to clear stock as its doubtful if both models will remain on sale together.
Source and Image: Engadget.