Apple issues developer account hack warning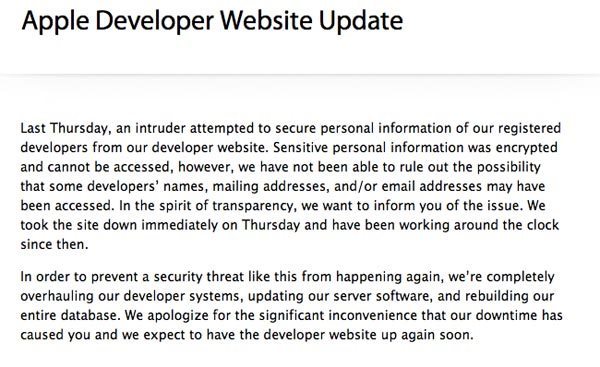 Apple has confirmed the reason for their Developer Center going down for what is now over 4 days, and this confirmation has been sent to developers and can be seen when trying to login to the Apple Developer Center. In a nutshell, the portal went down after an intruder tried to access personal information and this sent the restricted area into maintenance.
The Apple Developer Center has had a message stating maintenance is taking longer than they thought for a few days, but only changed in the last few hours to some solid details with what exactly happened and why the developer portal went down.
Apple explains that a developer account hack was attempted; although they have not been able to "rule out the possibility" that information was accessed. This doesn't mean that your personal details have been hacked, but at the same time it is still possible they were. The hacked details might include email, mailing address, developer names and more.
This is why the Apple Developer Center has been down for so long and now a major overhaul is taking place to improve security. Apple will keep the Developer Center offline for a while longer as they rebuild databases, update server software and overhaul the developer system. They claim that the developer website will be "up again soon", but issued no timeframe as to when it will come back online.
It will be interesting to see if the iOS 7 beta 4 download will go live OTA today for iPhone 5, 4S and other iOS devices. We doubt this will be a priority thanks to the current problems and any scheduled release will likely need to take a backseat until security has been improved. You can see the statement issued by Apple below.