Apple Developer Center down, maintenance prolonged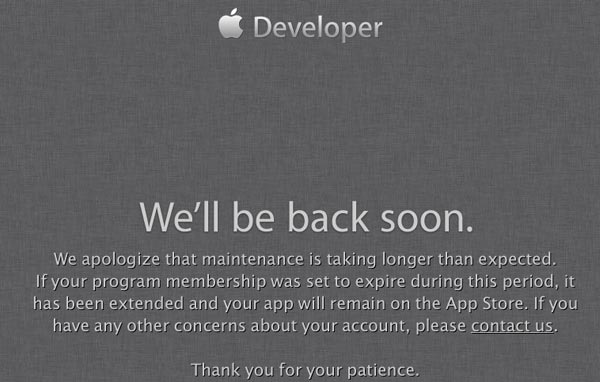 The news that Apple's Developer Center is down would be well known with most developers by now, and this is thanks to the outage lasting for around 2 days. This isn't a problem if you have no need to visit your Apple developer account, but for those of you that want to add another iPhone or iOS device to your account, it is a real problem.
Apple Developer Center maintenance prolonged — the latest message can be seen in the image below this article, which explains that the current maintenance has took a lot longer than they expected. The well-known "we'll be back soon" message is displayed in large letters, above the unhelpful message that gives nothing away as to why there's a problem with getting the Apple Developer Center back up.
Some people think the iOS 7 beta 4 update might arrive once everything is back, although this speculation is only thanks to it being predicted to arrive on Monday. We don't see any reason why Apple would bring the next beta forward, unless it is ready and thanks to the developer area still being under maintenance it could arrive early. Again, this is highly unlikely so take these rumors with a pinch of salt.
Apple make it clear program memberships set to expire during this downtime will be extended; so if that's you don't worry.
How has this outage and extended maintenance affected you? At the time of writing the Apple Developer Center is still down. We will update Phones Review readers once the service is back up and fully online.
UPDATE: Here is the reason for the Apple Developer Center going down thanks to an update from Apple. It looks like a hack took place.