Royal Baby news update by app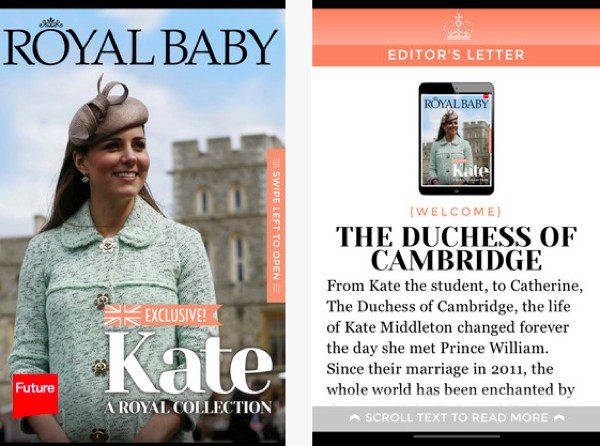 There's a lot of excitement right now surrounding the royal baby, with plenty of people waiting to hear news about the birth. If you're one of the many people eager to find out more, you'll be pleased to hear that you can now receive a royal baby news update via a special commemorative Royal Baby app.
We've all seen pictures showing the press camped outside the hospital in droves waiting for the first glimmer of any news. Now with this app you won't have to miss a thing about any of the news surrounding the royal baby. A free iOS app for iPhone, iPad and iPod touch has been launched by Future in association with the Press Association, and the Royal Baby: Kate and William's Birth Celebration app is free.
The app offers live updates and photographs, and you'll also be able to opt for paid add-ons. This way you can keep up with all the news about the Duke and Duchess of Cambridge's first child, with the attention almost reaching fever pitch. The app is compatible with devices running iOS 5.0 or later, and as well as giving you news about William, Kate, the new arrival, videos, and Twitter developments, you'll also be able to find out more with add-ons priced at £0.69. You can download the Royal Baby App from iTunes here.
We've already given readers a selection of baby name apps as a celebration of the royal baby on the way and it's certainly the case that plenty of other apps connected to the royal birth are springing up. For example Name the Royal Baby enables you to suggest names for the baby to Kate and Will, while Royal Baby Booth can give your own baby that 'royal' look. Hit the links for those and you'll be taken straight to the App Store.
Hopefully we don't have too much longer to wait until we hear news of the birth of the baby, and the royal baby news updates available with the Future and Press Association app will keep you informed. If you check out this app why not tell us what you think of it by sending us your comments.