Nokia Lumia 1020 vs iPhone 5 in must own showdown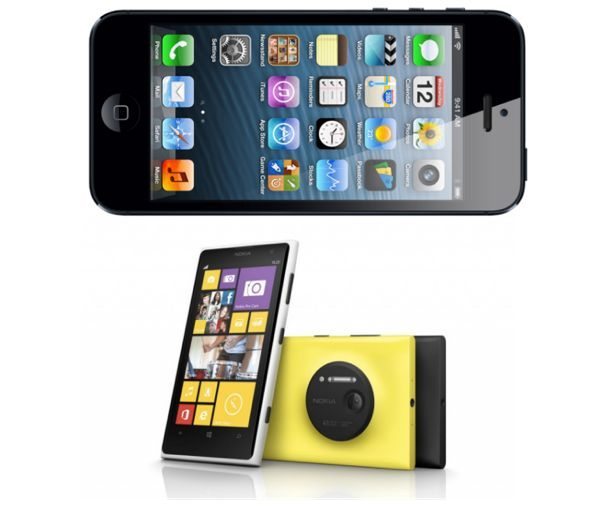 There are consumers who are still looking for their perfect smartphone, and even though there is a new Apple iPhone coming this year it seems some still want to buy an iPhone 5. But, there is a new smartphone to think about called the Nokia Lumia 1020, and this is getting a lot of attention at the moment.
So Phones Review have decided to do a small Nokia Lumia 1020 vs iPhone 5 comparison to see what is the must own smartphone, we will take a quick look at the specs of the two devices so that you can decide what is best, we will also add a few little extra bits to help you decide what is best for you.
The Display
The iPhone 5 features a 4-inch screen with Corning Gorilla Glass and oleophobic coating; it also has 640 x 1136 pixels and 326-ppi pixel density. The Nokia Lumia 1020 comes with a 4.5-inch AMOLED capacitive PureMotion HD+ ClearBlack display featuring Corning Gorilla Glass 3 and 768 x 1280 pixels, plus 332 ppi pixel density.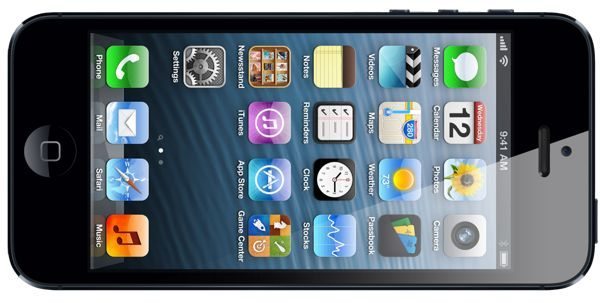 Memory
The iPhone 5 comes in 16GB, 32GB, and 64GB models with 1GB of RAM and an Apple A6 Dual-core 1.3 GHz processor, where as the Nokia Lumia 1020 comes with 2GB of RAM and only 32GB storage plus 64 GB (Telefonica exclusive).
Wireless Connectivity
We would have to say the 1020 wins this category simply because it will offer NFC, both iPhone and Nokia handset features Bluetooth, microUSB and Wi-Fi 802.11 a/b/g/n.
Operating System
The iPhone 5 comes running iOS 6 with the public release of iOS 7 coming in September; developers are already using the new iOS 7. The Nokia Lumia 1020 comes running Microsoft's Windows Phone 8 OS.
The Camera
The Lumia 1020 comes with a huge 41MP rear-facing camera but only 38MP is effective, it also has 7152 x 5368 pixels, optical image stabilization, autofocus, Carl Zeiss optics and Xenon & LED flash. The camera also features 1.12 µm pixel size, 1/1.5" sensor size, geo-tagging, PureView technology, dual capture, face detection and panorama. Video recording runs at 1080p@30fps with video light and 4x lossless digital zoom, it also has a 1.2-megapixel 720p@30fps front-facing camera.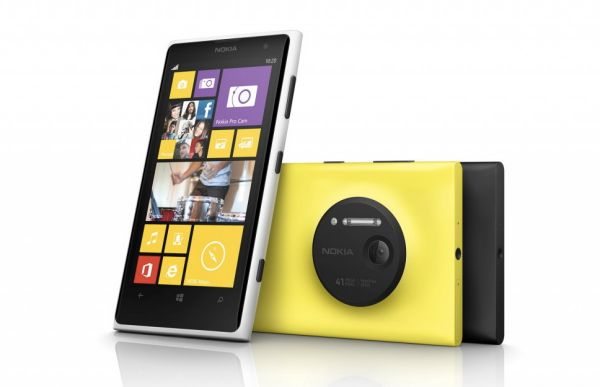 The iPhone 5 on the other hand comes with an 8-megapixel 3264×2448 pixels rear-facing camera featuring LED flash, autofocus, touch focus, geo-tagging, simultaneous HD video and image recording, as well as panorama, HDR and face detection. The video runs at 1080p@30fps featuring video stabilization. It also has a 1.2 MP 720p@30fps front-facing camera with face detection as well as FaceTime video chats.
Battery
The iPhone 5 comes with a non-removable 1440 mAh battery providing up to 225 hours 2G and 225 hours 3G of standby time, talk time offers up to 8 hours using 2G or 3G as well as up to 40 hours using music play.
The Nokia Lumia features a non-removable 2000 mAh battery providing up to 384 hours using 3G standby and up to 19 hours talk time on 2G and up to 13 hours using 3G, music play time is up to 63 hours.
So what smartphone is the best?
This is a hard choice really because both offers many great features, the iPhone 5 would provide a larger app store with around 800,000+ apps and only around 120,000 would be available for the Nokia 1020. The iPhone 5 is a lot lighter and thinner than the Nokia Lumia 1020.
The Nokia Lumia comes with 5.2x higher resolution front camera, comes with NFC, OLED would use less power, supports FM radio, battery is larger, screen is bigger, the processor is around 15% faster, resolution is higher than the iPhone 5, and the 1020 comes with more RAM.
If you do plan on getting the iPhone 5 we would say hold off until September, many consumers make the mistake of upgrading for a new smartphone and it would be silly getting the iPhone 5 now when a new iPhone is expected in a few months.
Would you prefer the iPhone 5 or the Nokia Lumia 1020 or will you wait for the new iPhone in a few months?