Oppo Find 7 pre-sale unlocked price and specs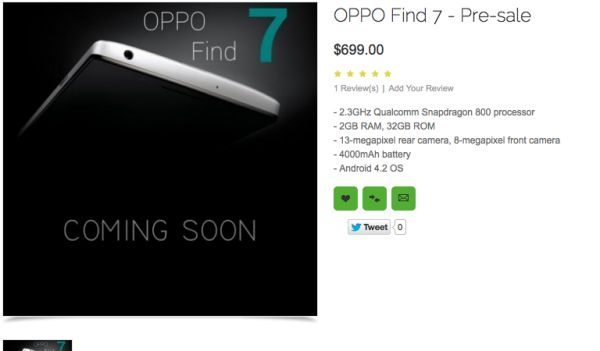 Oppo produces some really nice smartphones and the new one ready for release is the Oppo Find 7, this new handset is not that much different to the Oppo Find 5 when it comes to design and screen size, it is all about what is inside that counts here.
The Oppo Find 7 will be the successor of the Find 5 and the biggest change is the 2.3GHz Qualcomm Snapdragon 800 processor, it will come running Android 4.2 Jelly Bean with a few new customizations.
Other Oppo Find 7 specs include a 13-megapixel rear camera, 8-megapixel front camera, 32GB ROM, 2GB RAM and a massive 4000mAh battery.
It will come with the 5-inch 1080p screen, which is the same as the Oppo Find 5; the main bump is the 4000mAh battery, which is up by 2500mAh from its predecessor and obviously the CPU jump.
If you visit OppoMart.com you will see a pre-sale price of $699 for the Oppo Find 7, it does say out of stock but that is understandable considering it has not yet been released. No release date has been set yet, some have said it will come in September but we have a sneaky feeling it will be after.
The Samsung Galaxy S4 comes with the Snapdragon 600, but we have heard Samsung might release another S4 with the 800 CPU on board, whatever way you look at it the Oppo Find 7 is more expensive than the Galaxy S4.
Would you prefer the Oppo Find 7 or the Samsung Galaxy S4?