Microsoft interactive phone case with touch technology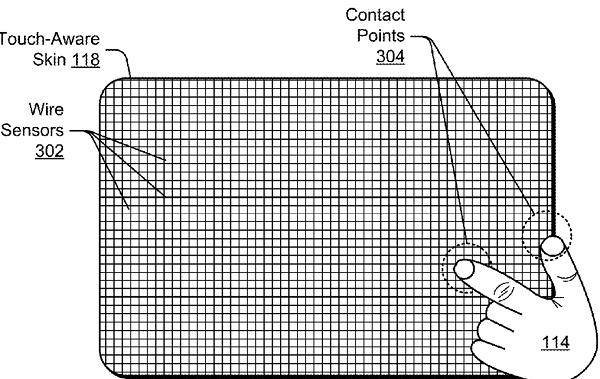 Smartphone manufacturers are constantly trying to develop clever and innovative ideas to help their products standout from the rest of the crowd. While we are used to seeing various Apple patents appear online, today we have news of a Microsoft interactive phone case with touch technology.
Microsoft has recently been awarded a patent that has uses technology using touch based sensors that are actually placed into cases for mobile devices. According to the company this is to provide contextually aware cases that will know what the user is doing in terms of watching a video or reading a book etc.
This is achieved by detecting the users grip pattern and set up the device needed for that action, and it seems that users will be able to alter this to choose which command is activated with each touch pattern.
The filing states that the sensors can be used to open up various applications or to switch on or off certain features just by touching the case in a certain way. The cases could also include NFC connectivity as Microsoft states that touching them together can transfer data.
These sorts of sensors are nothing new but have yet to hit products for the mass market, but that is about to change with the upcoming Moto X which is expected to react to your location or touch. It seems that in the coming few years that while our smartphones will continue to get more advanced technology wise, so will the accessories that accompany them.
Do you like the sound of this Microsoft patent?
Source: LapTop Mag.