Nexus 10 vs SIGGRAPH prototype testing Exynos 5 Octa 5420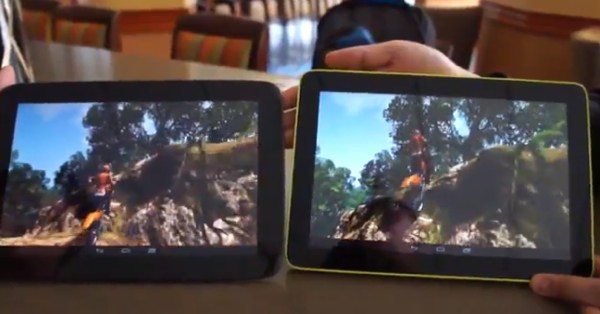 Yesterday we informed readers that Samsung had officially announced its new Exynos 5 Octa processor, with production set to ramp up next month. Now we've come across an interesting video that we'd like to share, showing the Nexus 10 vs. SIGGRAPH prototype testing of the upcoming Exynos 5 Octa 5420 used with a reference tablet.
The new Exynos 5 Octa 5420 SoC improves upon the previous Exynos Octa processor with increased battery performance and more GPU power. The SIGGRAPH 2013 event is currently taking place and Samsung is understandably keen to show off the capabilities of the new processor. The company has therefore come up with a reference tablet using the Exynos 5 Octa 5420 with ARM'S Mali T-628 GPU.
The video below shows this reference tablet pitted against the Nexus 10 with the 1.7GHz Exynos 5250 dual-core processor. The upcoming Exynox 5 Octa 5420 processor ran the GLBenchmark's 2.7.0 T-Rex on-screen test significantly smoother than the Nexus 10 managed. The augmented performance of the new Exynos Octa processor was also reflected in the final scores.
Following this Engadget also checked out Unreal Engine's Citadel as well as Unity Chase on the reference tablet, both of which showed excellently smooth transitions with speedy graphics. It's looking extremely promising for Samsung's new Exynos chip then, and we can't wait to see the first devices that launch using it.
Samsung hasn't yet announced when the new processor will be available but with production gearing up in August we wonder if there's any possibility that it may be used for the highly anticipated Samsung Galaxy Note 3 smartphone. This is due to be revealed at IFA Berlin in September so you never know!
When you've checked out the video below this story we'd like to hear your thoughts on Samsung's Exynos 5 Octa 5420 processor. Would you like to see this powering the upcoming Galaxy Note 3? Let us know with your comments.