Exynos 5 Octa 5420 increases power, GPU and battery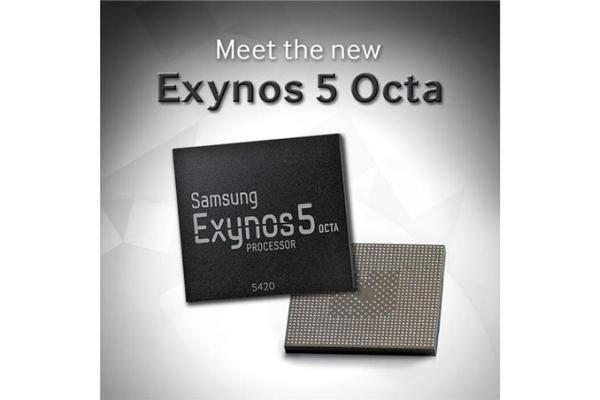 Samsung obviously gains a lot of press for its smartphones but the manufacturer is also famous for producing good quality processors, and it also builds components that are designed by fierce rival Apple for its smartphones. The company has now unveiled officially the Exynos 5 Octa 5420 that increases GPU power with better battery performance.
We first heard about the new Exynos 5 Octa 5420 processor last week and the possibility of it being fitted inside the Samsung Galaxy Note 3, and now the company has officially announced its new power plant.
In a similar way to the older 5410 processor that was launched at the beginning of the year this one also has a total of eight cores that makes use of the ARM big. LITTLE technology, which uses four full power Cortex A15 cores that are clocked at 1.8GHz with the other four Cortex A7 cores running at a clock speed of 1.3GHz.
Samsung is claiming that it has increased the processors performance by 20% compared to the older model, and it also has a dual channel LPDDR3 at 933MHz for super-wide memory bandwidth. The biggest difference between the two processors is the GPU, as the new model now uses a Mali T628 MP6 with six cores instead of the PowerVR SGX544MP3.
This produces around twice the graphical power than the old model as well as fully supporting OpenGL ES 3.0 and Full Profile Open CL 1.1. Samsung is pushing its new processor out to handset manufacturers but it is not thought to be available inside devices just yet, but production is expected to hit full speed next month.
Source: Samsung Tomorrow.