Nexus 7 2 vs. original Nexus 7 and iPad mini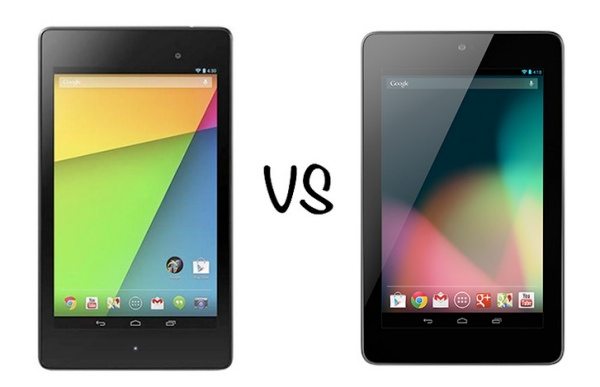 Earlier today Google announced the new ASUS Nexus 7 2nd-generation, although we will call it the Nexus 7 2, as this is what most people will be calling it. Having said that, it's not about the name, but rather the new hardware, along with a few minor alterations to the exterior design.
It's obvious that now Google has announced the all-new Nexus 7 people will first wonder how it compares to the original Nexus 7, and secondly, what differences there are against the current iPad mini.
Nexus 7 2 vs. original Nexus 7 — The Nexus 7 2 comes with a screen resolution of 1920 x 1200, along with Full HD, compare this to a resolution of 1280 x 800 for the 2012 Nexus 7. The former now offers 323ppi, whereas the latter has just 216ppi.
The design of the new model has changed just a little and measures 7.62mm x 200mm x 114.3mm, the current model measures 10.45mm x 198mm x 120mm. because there is this minor size difference the new model weighs less, just 317g compared to 330g.
However, the biggest differences is with the hardware, as the ASUS Nexus 7 second-generation now comes with the much rumored Qualcomm 1.5GHz Snapdragon processor, and has parted with Nvidia and their slower 1.2Ghz processor. The new Nexus 7 tablet also sees its RAM doubled, so now 2GB instead of 1GB.
Finally, the 2013 version of the Nexus 7 comes with Android 4.3, which is said to be faster, and offer significant battery savings, which is needed, as there has been no change to the 4,325mAh battery.
Nexus 7 2 vs. iPad mini — Looking over those figures above, it seems as though ASUS and Google have done what they set out to do, and that is to outdo the iPad mini. Take the screen resolution, 1024-by-768 resolution and 162ppi for Apple's smaller tablet, that's twice the pixel count. It's not worth going over the other figures, as we know the iPad mini has a much older and slower processor and less RAM. However, the biggest difference is price, as the iPad mini costs $100 more than the Nexus 7 2. However, we wonder how long it will be before things shift Apple's way once they release the iPad mini 2, depending if we get the updates we so desire?