iPhone 4 vs Galaxy S4 mini vs S2 Plus reboot speed debate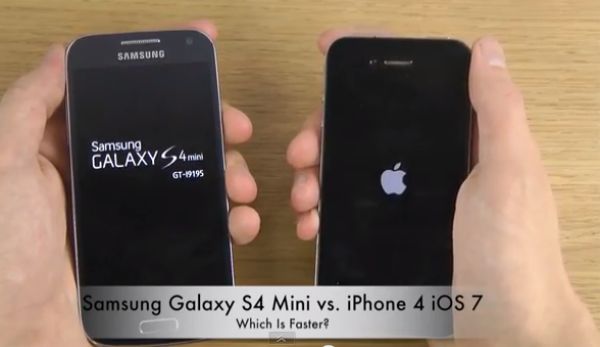 The iOS 7 Beta 4 release date has not yet been announced but we did say earlier it is more than likely going to be on Monday 29th around 10am PDT. Anyway, iOS 7 Beta 3 is already on the iPhone and below we have two videos testing the speeds of the iPhone 4, Galaxy S4 Mini and S2 Plus.
The first video contains Samsung Galaxy S4 Mini vs. iPhone 4 iOS 7, and the second tests the Samsung Galaxy S4 Mini vs. Galaxy S2 Plus, which one will be the fastest?
Reviewer adrianisen shuts down the Samsung Galaxy S4 Mini with Android 4.2.2 Jelly Bean and the iPhone 4 running iOS 7 Beta 3, but when the smartphones are turned back on we noticed the Apple logo showed up quicker than Samsungs but the S4 mini boots up quicker than the iPhone 4 showing the homescreen. We here at Phones Review would like to point out that the S4 mini is a new smartphone released in July 2013 and the iPhone 4 came out way back on June 2010, is it really fair to do speeds tests on these two handsets?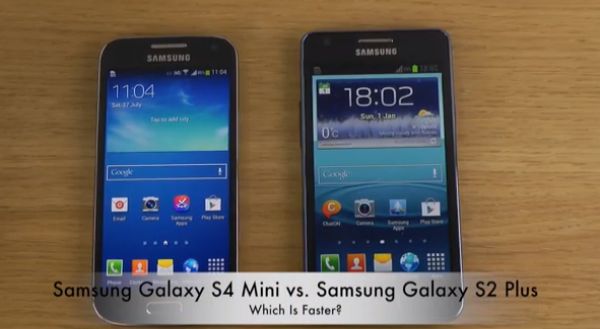 It is a little strange how someone would pit two smartphones together when they were released 3 years apart, the S4 mini has a faster CPU at 1.7 GHz and the iPhone only has a 1 GHz. Overall outcome: Yes the Galaxy S4 mini is a lot faster but it is a smartphone that is 3 years newer than the iPhone 4, the mini has a faster processor and iOS beta 3 is not as stable as Android 4.2.2, its called beta for a reason.
Next up is the Samsung Galaxy S4 Mini vs Galaxy S2 Plus speed test, S4 mini was released in July and the S2 Plus came out in February. The S2 Plus has a 1.2 GHz processer running Android 4.1.2 Jelly Bean. This was rather interesting when the two devices were rebooted, the S2 Plus started up quicker than the S4 mini. It was only a few seconds but to see an older phone and we know there's only a few months between release dates was very interesting.
Do you think these phones should have been pitted against each other in the reboot speed tests? Please watch the two videos below and then pass your own judgements in the comments, thanks and have a good weekend.