iPhone Mini Lite designs for Apple consideration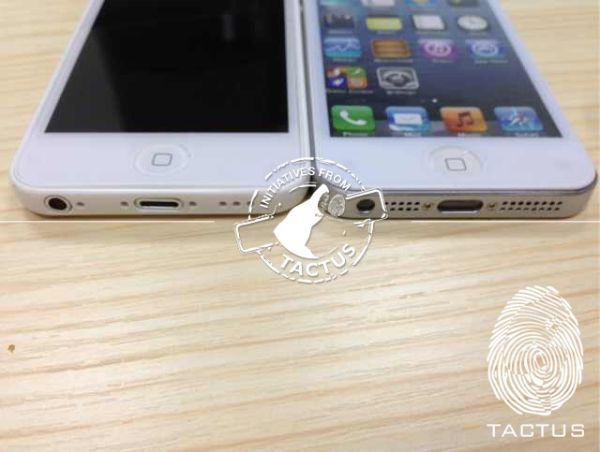 The Apple design team are no doubt sitting back in comfy seats in the office coming up with new innovative ideas for the next iPhone, but we know for sure that they will not open and doors revealing what they are coming up with. The iPhone 5S is an almost guaranteed certainty, but as for a budget smartphone with the main material being plastic is a complete mystery. Surely it is time for the iPhone Mini Lite, we now have a few photos and one video with some ideas.
Samsung, HTC, LG and many more have budget smartphones to keep sales figures up, they all have high-end handsets but not everyone can afford them, one thing Apple has not done is release an iPhone at low cost prices and it is about time they released a budget smartphone under the $300 mark.
Leaked images have made their way over to Tactus, of course we have to remember these are just leaks and nothing more. Nether the less it is still worth seeing ideas thrown around to show us what is possible. A new sub-$300 outright priced plastic smartphone called the iPhone Mini Lite made with smooth polycarbonate materials in an array of many colors would be very good for Apple consumers, Apple could consider this budget iPhone 5 style smartphone.
To release a smartphone that looks like these shown here with the price tag mentioned above would open more doors and generate a larger audience for Apple, they should consider this possibility. It does not mean Apple will be lowering its standards because they can still supply new high-end smartphone we are all used to.
The other plastic smartphone called the iPhone Lite shown below has been rendered by T3; we have also added a video that shows you the possibilities. The new iPhone Mini Lite with a 9mm thickness, made with polycarbonate, many color variations would be great to see, and with iOS 7 on board would make things more attractive.
Other iPhone Lite features: 8-megapixel camera, Lighting charging port, 4-inch display, 1 GB of RAM, 16 GB of storage only and Bluetooth 4.0 – Take a look at more photos below.
Would you buy a new Apple smartphone called the iPhone Mini Lite for $300?