Nexus 7 2 UK price at Tesco, Argos, Amazon and Asda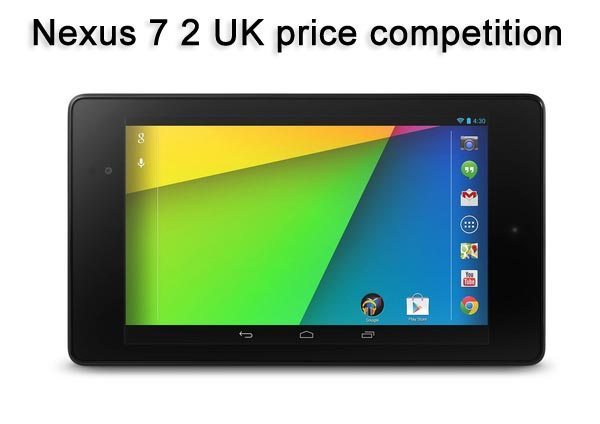 Some things are pretty clear when it comes to the Nexus 7 2 UK release date, price and how the competition will handle this launch, but it is still unclear if any of the UK retailers will try and undercut others with lower prices or free extras.
Currently, we can see the new Nexus 7 second generation live on PC World UK, but this is for a future release date that's pegged for 13/09/2013. This store has listed the Asus Google Nexus 7-2 tablet in both 16GB and 32GB forms, although the price ranges from £199.99 to £239.99 and this will mostly be exactly the same pricing in most UK stores.
We have had a look for the Nexus 7 2 on a number of popular UK websites, which include Tesco, Argos, Amazon, Asda and a few others. Curry's and PC World already list the device as "ASUS Google Nexus 7-2" although officially it was named New Nexus 7 and would most likely show as a 2nd-gen at the checkout.
Most of the other UK retailers don't have the new Nexus 7 2 listed yet and we can still only see the old model on Tesco for £179, Asda for £199, and Argos for £179. This older pricing shows that Argos and Tesco might be more competitive for pricing the Nexus 7 2, but even if the prices stay the same between stores you could see retailers like Tesco offer club card points or other freebies to entice sales.
There's still hope that some of them might want to use the Nexus 7 2 as a loss leader that attracts people to stores for the tablet, but then they purchase many others things while in the superstore.
Amazon UK currently has the Google Nexus 7 listed as "FHD 2nd-gen 16GB tablet", although this listing has a price of £299.99 through a 3rd party named Tech HeavenS that claims to ship from the UK on July 29. We would like to warn Phones Review readers over Nexus 7 2 deals like this, and this is thanks to the price expected to be £199.99 for the 16GB model, so it is obvious that some 3rd party retailers or eBay users might import and dispatch from the UK at a much higher price.
Are you holding out to see what UK stores give for free with the new Nexus 7 2? We would imagine some people will wait until the UK release date, but also just as many might want to pre-order to guarantee a unit for themselves.