Nexus 7 2 Google Wallet problems discussed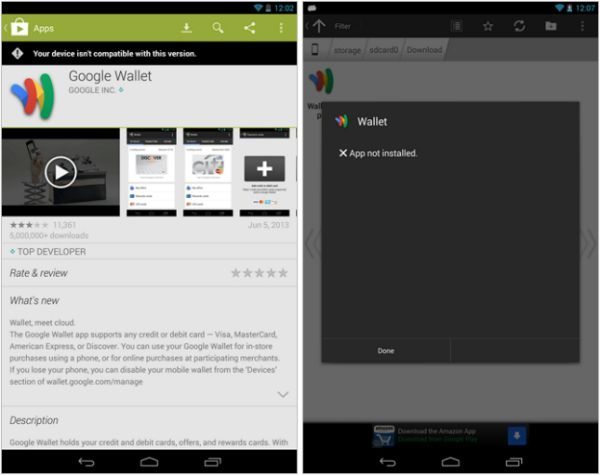 Since Android 4.3 was released there seems to be a few issues, earlier on today we reported about the Nexus 4 getting hot and now we want to bring it to your attention about the Nexus 7 2 Google Wallet problem and a couple of new updates.
The new 2013 Asus Nexus 7 has received two new firmware updates; these are the JWR66N and JSS15J, which upgrades Android 4.3. The first update basically installs itself when you connect your tablet to a wireless network for the first time; the second is a normal update that will pop up in notifications.
Both JWR66N and JSS15J updates are nothing important but just minor ones for bugs and little enhancements, please do let us know what you find when you install these updates.
If you plan on installing Google Wallet on the new Nexus 7 then think again, it seems it is not compatible according to Android Police, which is crazy really considering the tablet comes with NFC. If you try and install Google Wallet via Google Play or the latest APK you will notice it will not download.
Are people really bothered if the Nexus 7 2 is not compatible with Google Wallet? There are a few that may not want to carry a 7-inch tablet around with them and use NFC, seems more practical on a smartphone.
A few comments online have popped up suggesting that there is no Secure Element in the new Nexus 7 and this is why Google Wallet is not compatible, do you agree with this?