Acer Liquid Z3 joins the budget Android 4.2 party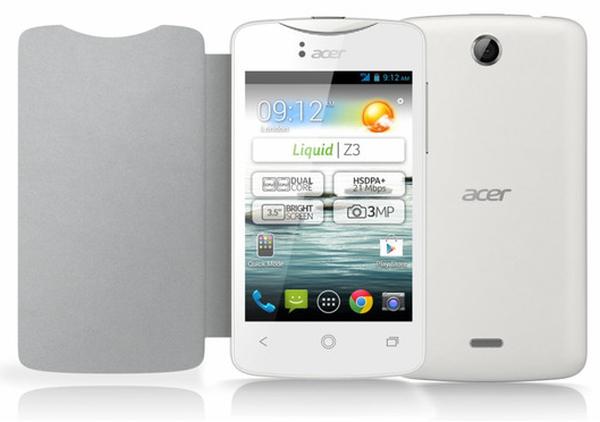 While the flagship smartphones that are constantly being released gain a lot of press not everyone can afford or even need such devices. Also if you are purchasing a new mobile phone for a younger user many might not want them to be walking around with such an expensive device on their person in case of damage or theft, but the Acer Liquid Z3 has now joined the budget Android 4.2 Jelly Bean party.
Acer is better known by many for their laptops or tablets but the company does have a variety of smartphones on offer, and Acer has now announced the budget conscious Liquid Z3 that is an entry level device.
It features a 3.5-inch HVGA resolution touchscreen display that is powered by an unnamed dual core processor clocked at 1GHz which is paired with 512MB of RAM. There is 4GB of built in storage that is expandable further via microSD card.
There is also a 3-megapixel rear facing camera on a handset that measures 109mm x 60mm x 10.4mm and weighing only 120 grams, and the device is aimed at the budget market and there will also be a dual SIM version available.
The Acer Liquid Z3 will come running Android 4.2.2 Jelly Bean operating system and there is a Basic Mode for those not used to a smartphone that has call and text functions, while the Classic Mode has all the main functions in a simple layout, and there is a Keypad mode for users that want to be able to use the keypad straight away.
It's the price of the handset that will appeal to many potential customers though as it will only set you back €99 when the device is released later this month in the European region and it will be available in either black or white. Acer are also going to release a number of accessories such as flip covers and replaceable back covers in a number of different colours.
Source: Acer.