Premature iPad accessory with 5 features, size an issue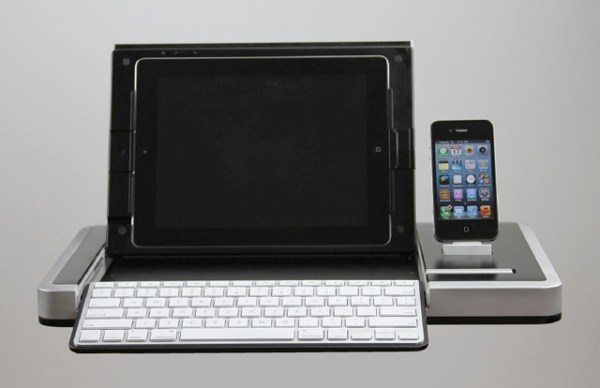 Ever since Apple released the iPad 2 there have been a multitude of cases, this is because since then the dimensions have been pretty much the same and so these cases can also fit the iPad 3 and the 4, as for the 5th generation we have no way of knowing yet.
Don't think for one moment that third-party iPad accessory makers are slowing down anytime soon, as they know these versions of the iPad will still sell in their millions, apart from the iPad 3 that is. With this in mind there is a premature release of an iPad accessory with 5 features because it is a Kickstarter project that is set to go live in 16 hours.
However, before we get going, we need to tell you that this new iPad accessory has a size issue, as it is a behemoth. This accessory is a rather large dock and comes with 5 features and retro styling, which is still popular; you only have to look at some of those Micro Four Thirds cameras being released.
This dock packs a full-size keyboard, a desktop tray, an iPhone dock, a case and a compartment to put your cables in. okay, so it is great to see this product do the job of several, but we are not too sure on that questionable large design?
The Modus III weighs in at 2.4 pounds, and so is much larger than most of cases, although this is so much more. We would say this accessory is not for taking around with you at all times, but rather just to and from the office.
While we do not know how much this project needs to raise, we do know that the Modus III will come with a price of $300, although the first 125 people to back the upcoming Kickstarter project will pay just $170. There is to be a choice of four color options, black, white, wood and carbon look.