HTC One Max new photo prompts RIP Note 3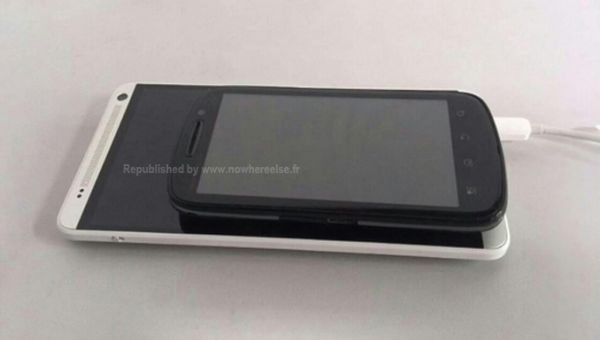 A new photo popped up online showing off the supposed HTC One Max comparing size differences to a 4-inch Motorola handset, but since this image went live people seem to be going crazy with some mad comments accompanying them.
The leaked HTC One Max photo is another instalment since the ones we showed you back on 5th and 6th of this month, it has been said that the Max will make an appearance at IFA but this is all speculation.
HTC One Max specs are said to include a 5.9-inch display, 2GB of RAM, quad core 2.3GHz Qualcomm Snapdragon 800 processor, 1920 x 1080 pixels, 16GB of storage, Android 4.3 Jelly Bean and HTC UltraPixel camera. It is apparently said to be coming with a 3200mAh battery, which is not as good as the Motorola Droid Maxx but a lot better than the Galaxy Note 2.
Since the HTC One Max surfaced we have seen some crazy comments on many websites, we read one comment saying 'RIP Samsung Galaxy Note 3', another said even though the One Max looks great Apple should release the iPhone 6X with a 5.9-inch display with resolution 2048 x 1536 pixels. How on earth can you say rest in peace to a smartphone that hasn't even been announced yet, and Apple would never release a 5.9-inch phone.
Phones Review would like to say the smartphone world is going stir crazy, first the HTC One is released with a 4.7-inch display, then there is the 4.3-inch HTC One mini and now there are reports of a 5.9-inch Max, how many variants of the same phone with specification tweaks do they really need? Oh, ask Samsung about its S4 variants!

Would you buy the HTC One Max?