Samsung Galaxy Note 3 launch clash with Apple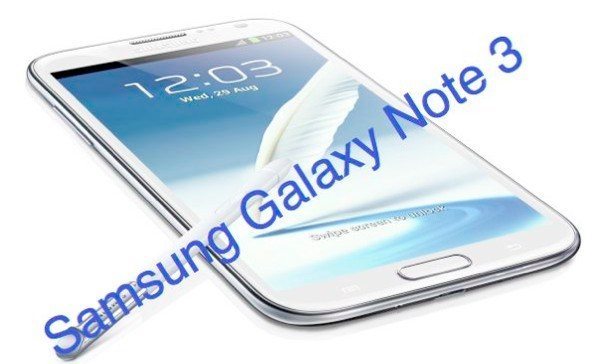 For some time now we've been expecting the official unveiling of the Samsung Galaxy Note 3 at IFA in Berlin during September. Apple is also expected to hold an event around September 12, and now that a Samsung Unpacked event has been confirmed for September 4 this can only mean one thing, a Samsung Galaxy Note 3 launch clash with Apple.
Yesterday we told how Samsung had sent out invitations for the event that will officially reveal the Galaxy Note 3 on September 4. This has been a date that has been long-rumored, in fact we first mentioned this date on July 1, long before it was made official. The Samsung Galaxy Note 3 is a highly anticipated device, and in fact we're seeing as much interest in the new Note for 2013 as for the next iPhone.
We've seen various dates speculated for the official Apple announcement of the iPhone 5S and possibly also the budget iPhone 5C. September 12 and 18 have both been mentioned although an earlier leaked date of September 6 has since been discredited. Although several new Apple mobile devices are due later this year, including the iPad 5 and iPad mini 2, it seems likely that the September event will focus on the next-generation iPhone along with a cheaper plastic version that has been highly-rumored.
Of course this means that the launch events of two of the most hotly anticipated devices of the year could be within a week or so of each other, and we wonder if this could be too close for comfort with the handsets being unveiled at approximately the same time. To us it seems rather a shame that two of the most popular smartphones of 2013 are likely to launch together as they will both detract attention from the other, but then maybe this is a deliberate strategy by Samsung and Apple?
The releases of the Galaxy Note 3 and iPhone 5S are likely to come within weeks of the official introductions and could be in the hands of consumers by the end of September. Perhaps these two giant manufacturers feel that they can poach customers of the rival device by releasing these flagship devices at around the same time. Frankly though, many potential buyers will be dedicated to either the Android or iOS platform and will have already made up their minds to purchase one or the other. Therefore it would have been good to see these major products launch with a rather wider gap between them.
One of the rumored inclusions for the Samsung Galaxy Note 3 is a 5.7-inch Super AMOLED full HD display, although there have previously been rumors that some units will also be produced featuring IPS LCD displays. Other likely specs include a 13-megapixel rear camera, a Qualcomm Snapdragon 800 quad-core processor, and maybe as much as 3GB of RAM. It now looks likely that it will release running the latest Android 4.3 Jelly Bean OS, rather than the rumored Android 5.0 that seemed probable a few months ago.
The iPhone 5S on the other hand is thought to a refresh of the iPhone 5, with an upgraded processor, improved camera, and the inclusion of iOS 7 that is due for a public release towards the end of September. A fingerprint scanner has been widely rumored for some time although some doubt has now been thrown on that likelihood.
We're certainly looking forward to September and the launches of what will be extremely hot smartphones amongst eager buyers, and of course we'll be following all of the developments over the next few weeks regarding the Galaxy Note 3 and next iPhone. While we wait, we'd really like to hear your thoughts on the likelihood that these devices will launch so closely together in a real clash of the titans.
Do you wish that Samsung and Apple were unveiling the Galaxy Note 3 and iPhone 5S with more time between them? Maybe you feel it makes no difference to you at all as you're an Android or iOS devotee, and therefore only have an interest in one of these devices? We're always interested in what our readers have to say so do send us your comments on this.