8 Game tests on iPhone 5 iOS 7 beta 5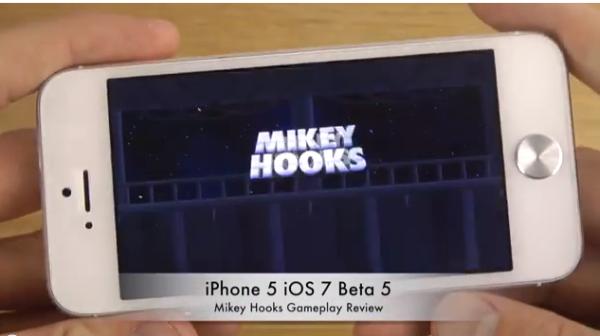 Apple has been busy in the last couple of months since the official announcement of its next version of the iOS mobile operating system by releasing beta versions of iOS 7 to developers. Today we have 8 game tests on the iPhone 5 with iOS 7 beta 5.
The first video we have for you in this extensive collection is looking at the game Abyss Attack on the iPhone 5 which is a relatively new game and looks like a space type shooter. You have to collect items as you progress to unlock power ups and other features, and the video is almost seven minutes long.
Next up is the game Mikey Hooks which is also a recently released game for the iPhone and is a platform type title. You have a hook to use that wasn't in the previous Mikey game and as you play the game gives the user instructions on the controls. It looks a fun game and will remind you a little of the early Mario games from years ago.
We then move onto Kritter Ball and is a type of pinball game as you fire the ball to collect coins, and it has some nice graphics and animation. The game looks pretty simple but addictive and will appeal to all ages.
The next video is looking at the game Swift Revenge that basically sees you take control of a bird as you trey and avoid numerous obstacles coming your way. The next game is Lub vs Dub that has the option of a two player battle or a single player run. At first the reviewer has issues getting the game to load but when it does you are met with a game that has extremely poor graphics.
Up next is a look at NFL Pro 2014 from Gameloft and the reviewer doesn't have the first clue how to play the game, but fans of the sport the graphics do look quite good. Another game we have for you in video is Knife That Guy which as the name suggests has you killing other characters, but the game has a very 1980s feel to it graphic wise.
Last up we have the game Gleamer which is another title that looks like a throwback to the 80s or earlier. Check out all the videos but we have to warn you about some of the strong language that the reviewer uses in some of them.