Motorola Moto X price at Best Buy shows up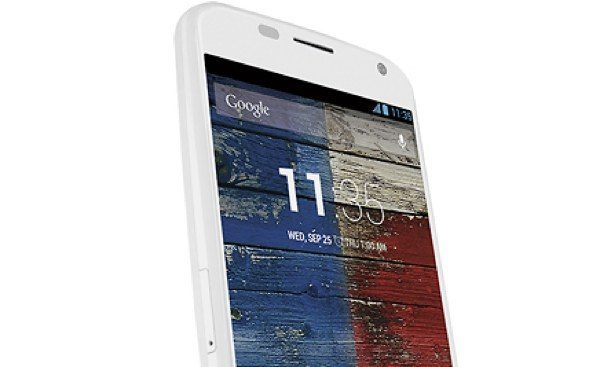 We've been bringing readers plenty of information on the recently announced Motorola Moto X. This has been a highly anticipated smartphone and is heading to all of the big four US carriers, AT&T Verizon, T-Mobile, Sprint and also US Cellular. Today we have news that the Motorola Moto X price on Best Buy has now shown up, and we have details of both the contract and non-contract pricing.
We have already informed readers that the 16GB model of the Moto X would be priced at $199 on a two-year contract with the major carriers, and that Best Buy would also be selling the phone. Best Buy pricing had not been confirmed at that time, but today the Best Buy Moto X product page has appeared.
The price of the 16GB Moto X from Best Buy on Verizon, AT&T or Sprint is $199.999 on a two-year contract in either black or white color options. The Moto X non-contract price at Best Buy is $699.99, but we should point out that buying the handset without a contract through Best Buy might not be the best option. If you want to purchase the Moto X with no contract then it may be cheaper to do so straight from a carrier.
As for the precise release date, the phone on Best Buy is listed as "coming soon." However, a leaked Verizon roadmap recently showed an unconfirmed date of August 23, so there may not be too much longer to wait until you can get hold of the Moto X. Finally we'll give you a brief refresher of the specs of the Moto X.
Specs include a 1.7GHz Qualcomm dual-core processor, 4.7-inch display with resolution of 1280 x 720, 2GB of RAM, and 16 or 32GB of non-expandable internal storage. It also has a 10-megapixel rear camera with 1080p video capture, a 2-megapixel front-facing camera, LTE, a 2200 mAh battery, and runs the Android 4.2.2 Jelly Bean OS. If want to check out more about ordering the Moto X through Best Buy then head to the product page here.
Are you intending to purchase the Motorola Moto X smartphone? If so, will you be buying it directly from a carrier or from Best Buy? What are your thoughts on the pricing of this handset? Let us know with your comments.