iOS 7 on the Mac with iOS X Ivericks
We all love concepts, but what we would like is for these to become reality. How would you like iOS 7 styling on the Mac desktop? Well, this could all be possible with the new iOS X Ivericks concept.
Automotive Design graduate from Coventry University, Stu Crew has a new concept that we love very much, and to bring iOS 7 mobile operating system to the desktop would be a blessing. This is a stunning look into the enhanced OS X design with brilliant visuals and styling that would please any Apple lover's eyes.
iOS 7 is expected to be release to the public in September and we would like something similar to iOS X Ivericks released onto the Mac desktop, Apple changed the iOS design a lot to make it all feel and look new, better styling, flatter icons and many more features make the new operating system more fluent with users. This is what is needed for the desktop; the ability to combine both Mac and iPhone simultaneously would be fantastic.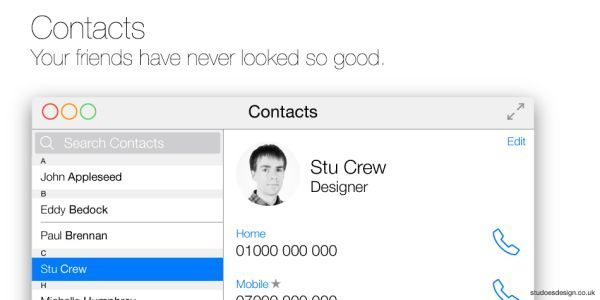 Contacts on the desktop would be a simple recreation of the iOS 7 display with a new sidebar for scrolling through contacts. Moving the create, share and delete buttons to the bottom left frees up more of the window for content.
The new notifications looks great, and Crew decided to replace the app icon the contacts photo, this way it nicer because it would make it easier for you to decide if you want to contact them back or not.
It would be fantastic if we could receive our iPhone notifications on the Mac desktop, a simple sync would be great. What do you think of iOS X Ivericks?