Acer Liquid S2 set to join the phablet party with KLP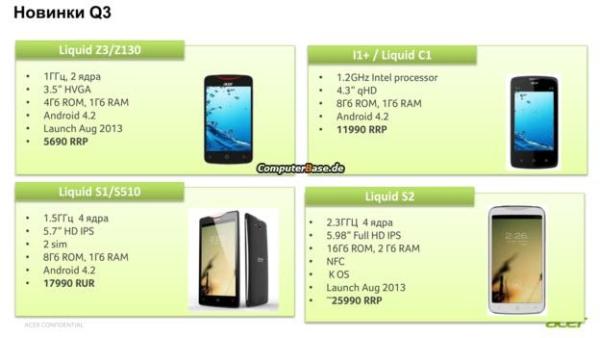 Back in 2011 Samsung created the market for larger sized smartphones that had some high end specs with the release of the original Galaxy Note. Now a couple of year's later lots of different hardware is being released and it seems that the Acer Liquid S2 is set to join the phablet party with Android KLP.
Acer only recently provided consumers with the Liquid S1 back at the Computex event in June, but there is already talk of a new model that could be going up directly against the likes of the Samsung Galaxy Note 3 and HTC One Max.
An alleged Acer roadmap has emerged that has a device with a codename of Hemingway but is simply called the Acer Liquid S2, and if the specs are correct it may give the Galaxy Note 3 something to think about.
The device is rumoured to have a 5.98-inch Full HD display that is powered by an unnamed quad core processor clocked at 2.3GHz, which you would have thought would be the Qualcomm Snapdragon 800.
This will be paired with 2GB of RAM and 16GB of on board storage along with NFC and LTE support, and what's interesting is that the roadmap lists K OS which could be referring to Android 5.0 or Key Lime Pie. It looks almost certain that the Galaxy Note 3 will launch running with Android 4.3 so the Acer might have a later release timeframe.
This may mean something else though as the launch date is hinting at a late August arrival with Android 5.0 not expected to arrive until around October or November, and the device will have a price of around €600.
Do you think the Acer Liquid S2 will be worth considering?
Source: Technology Blogs.