Sony Xperia i1 Honami camera possibly confirmed with sample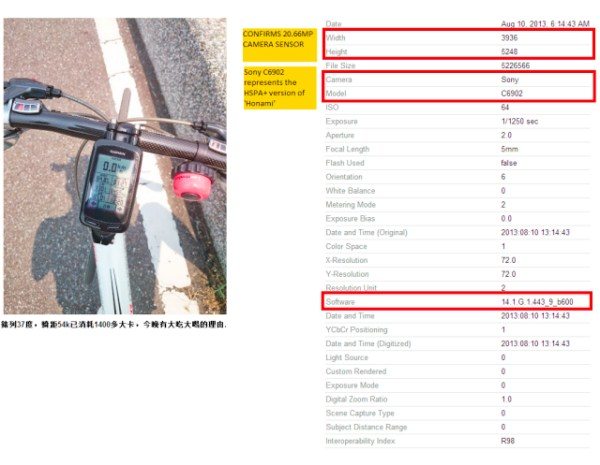 An upcoming Sony smartphone is grabbing its fair share of attention right now, even though the name of the device is still not confirmed. Known as the Sony Xperia i1 Honami by some, or simply the Sony Honami, it's rumored to have a 20.7-megapixel rear camera. This Sony Xperia i1 Honami camera has now been possibly confirmed, according to a leaked camera sample.
We say, "possibly confirmed," as although the evidence seems strong we cannot verify the authenticity of the leaked camera sample data that seems to have come from the Honami smartphone. However, the source of the information is apparently a senior manager with Sony Taiwan, and so it does sound credible.
The i1 Honami has been the subject of many specs leaks already and now the much-rumored 20.7-megapixel camera seems more certain following an image that was uploaded to Picasa. The EXIF data from the image shows that it was taken by model number C6902, a number that has been tied to the Honami on previous occasions.
The data (image below) indicates the 20.7-megapixel camera shot with resolution of 5248 x 3936, and also shows an aperture of f/2.0 and standard 4:3 aspect ratio. The device that took the image was running 14.1.G.1.443_9_b600 firmware. Other leaked specs so far for the Sony Xperia Honami include a 2.2GHZ Qualcomm Snapdragon 800 quad-core processor, a 5-inch full HD display, and the Android 4.2.2 Jelly Bean OS.
The Sony Xperia i1 Honami is also likely to be both waterproof and dustproof and it's expected to be officially debuted at IFA Berlin on September 4. This means there's not too much longer to go until we can hopefully give you all of the official details regarding specs, release date and price for the Honami smartphone.
Are you eagerly waiting to hear confirmed news for the Sony Xperia i1 Honami? Is it the camera set-up that most appeals to you about this notable upcoming smartphone? Let us have your comments regarding the Sony Honami.
Source: Xperia Blog