Top 3 unique features of the Snap2PDF iPhone app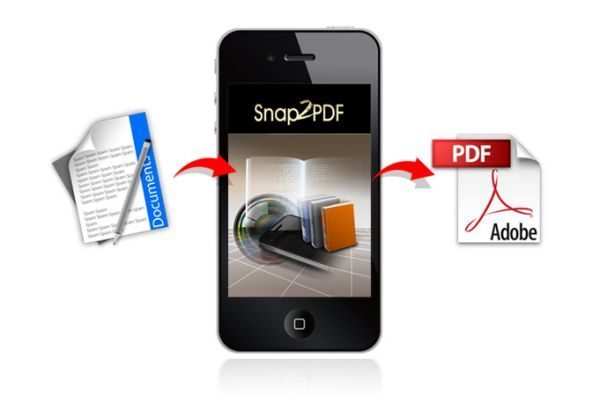 Looking for a detailed app review for the iPhone app Snap2PDF's Scan Documents and Share Searchable PDF? The Snap2PDF ranks among the top ten apps within the Business category, in several countries across the globe. This product has received rave reviews from customers and critics alike.
Listed Below Are The Top 3 Unique Features Of The Snap2PDF:
1. Smart And Quick Document Sharing Through Cloud Storage Or Email
The Snap2PDF is a user-friendly document management app. It is compatible with the iPhone 5/iOS 6. It offers an option to backup all your important data on Cloud. It easily recognizes text from images. This text can be conveniently copied and pasted on an SMS, email or a clipboard. This app works great in the latest iPad too.
2. Allows The User To Capture And Share Documents In PDF format
This app is especially great for professionals. If you have been struggling to organize various documents piled over your workstation, you can now easily clear it all up. The Snap2PDF is an easy and convenient method of carrying important documents and data around, anywhere you go!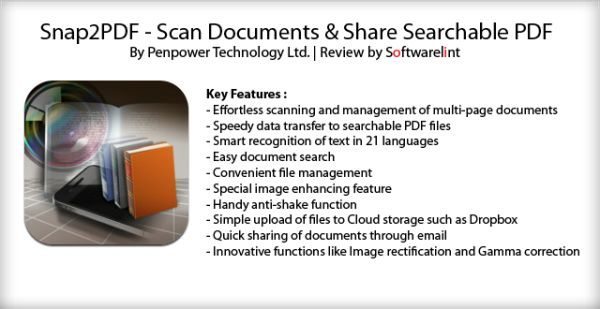 3. Quick Translation In Various Languages
The Snap2PDF recognizes multiple language text. This app can translate in 21 languages that ranges from English, Swedish, French, German, Spanish, Italian, Korean, Chinese, Japanese, Dutch, Portuguese, Czech, Finnish, Danish, Hungarian, Polish, Norwegian, Russian, Romanian and Slovak. It will also help you to read documents in various other languages more easily. By simply tapping on a word or a sentence you will get the required translation.
Product specifications for the Snap2PDF's Scan Documents and Share Searchable PDF include: 1) Speedy data transfer into a searchable PDF file format. 2) The Snap2PDF comes with the image enhancing function. This feature offers additional clarity and thereby eliminates any data recognition issues. 3) Scanning of multi-page documents or data can now be continuously done. There is no waiting whatsoever. 4) Convenient file management. 5) You can look for scanned PDF files with the help of document name, keywords, OCR text and description.
Overview of the App
The Snap2PDF is a perfect iPhone app that allows you to create a PDF file instantly. Now you can easily organize all your documents. The image recognition feature works really well too. If you have ever tried using this app with documents in various languages, you will realize that the results are highly accurate. The Snap2PDF will capture all your PDFs directly from your iPhone camera. Simply snap your document and it gets saved in a searchable PDF format. That's really easy, isn't it? Download Snap2PDF for $2.99 to get to know more about it!