Samsung Galaxy S4 takes top slot for hardware performance
The competition in the smartphone market is getting more intense all the time as manufacturers try and offer handsets that consumers will pick over their rivals devices, but the popular Samsung Galaxy S4 takes top slot for hardware performance according to some benchmark tests.
There is a huge range of high end Android smartphones available to consumers and AnTuTu providers of the popular Android benchmark utility has put up its data collected for the first part of this year.
The information comes from results from hardware performance of devices globally and popularity in certain Asian regions. With regards to hardware performance the Galaxy S4 occupies the top two spots with the Exynos 5 Octa taking top spot, which is followed by the Qualcomm Snapdragon 600 powered device.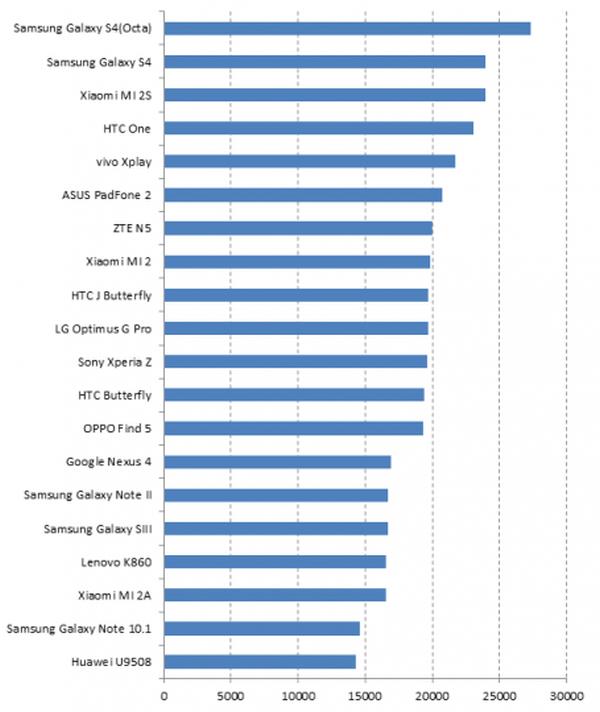 In third place is the Xiaomi MI 25 followed by the HTC One, and AnTuTu has also provided data on how popular handsets were in the likes of China, Hong Kong, Taiwan, and Japan. In most regions the Samsung Galaxy S4 and Galaxy Note 2 occupied the two top spots, but in Japan the Sony Xperia Z and the Asus Nexus 7 came out on top.
You have to wonder why AnTuTu doesn't show popularity data for handsets on a global scale as it does with hardware performance, but benchmark results aren't everything and in real world situations things are not so straight forward.
Do you decide which smartphone to purchase based on benchmark results?
Source: AnTuTu Labs.