iPhone 5C cases sort of confirm name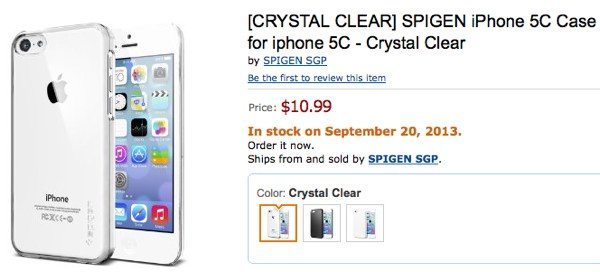 It's not long now until September when we expect to see the introduction of the next iPhone. In fact, if rumors are to be believed we could be seeing two devices, the iPhone 5S and also a budget iPhone dubbed the iPhone 5C. The supposed lower-cost iPhone has been given various titles. but it now appears that some iPhone 5C cases sort of confirm the name.
Evidence of a budget iPhone has been growing recently, and we have already seen leaked images and parts that claim to be from the iPhone 5C. The iPhone 5C name now seems pretty certain as accessory maker SPIGEN has revealed some cases for a handset listed as the iPhone 5C, while a screen protector has also shown up bearing the name.
Although this might not be 100% confirmation of the name, it would be pretty unlikely that a major case manufacturer would come up with these accessories and name them, only to find they have the wrong name. The accessories are shown on Amazon and also depict iPhone 5C renders that tie in with recent image leaks of the device. However, one area of difference with these renders is the silent mode switch on the handset is evident and on some earlier leaks this was not depicted.
A SPIGEN case and bumper for the iPhone 5C can be seen at Amazon here and here, with the screen protector here. Another interesting detail from theses iPhone 5C accessory listings is an availability date of September 20. At the weekend a possible launch event date of September 10 was reported, so could this mean that the iPhone 5C and iPhone 5S may release on September 20?
That remains to be seen of course, but hopefully we will know all of the official details regarding the iPhone 5C and iPhone 5S before too long. We'll keep you informed as we hear more, but in the meantime we'd like to hear what you think about the idea of a budget plastic iPhone. Would you consider the iPhone 5C, or would you only opt for the more premium iPhone? Send us your comments on this.