Samsung Galaxy Mega 6.3 in blue spotted for AT&T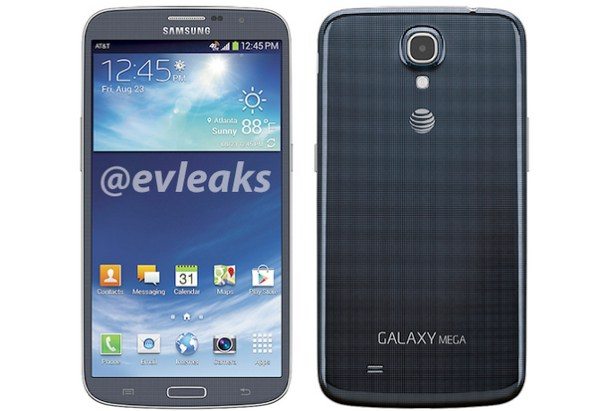 Image leaks are coming in thick and fast lately, and today we have news that the Samsung Galaxy Mega 6.3 in blue with the AT&T logo has been spotted. This comes hot on the heels of leaks showing the LG Optimus G Pro in white for AT&T. With the Samsung Galaxy Note 3, Apple iPhone 5S and others also coming in the next few months, it looks as though customers will soon be spoilt for choice.
A press render purporting to be the Samsung Galaxy Mega 6.3 in navy blue for AT&T, clearly shows the carrier's logo on the rear casing. This is the SGH-I527 Melius model with LTE connectivity for AT&T, and although we haven't news on exactly when it will be available on AT&T, it certainly looks as though it won't be too much longer until customers can get their hands on it.
The image leak comes from Evleaks who have gained themselves a very good reputation of reliable leaks on upcoming devices, so we think this is more than likely to be the real deal. If you're thinking of purchasing this Android smartphone with a massive display, then we'll recap the key specs.
The Galaxy Mega 6.3 has a 1.7GHz Qualcomm Snapdragon dual-core processor, a 6.3-inch display with resolution of 1280 x 720 and 233 ppi, 1.5GB of RAM and 8 or 16GB of internal storage (expandable via microSD). It also has an 8-megapixel rear camera, 1.9-megapixel rear camera, and 3200 mAh battery, and it runs Android 4.2.2 Jelly Bean.
If we hear more information on exactly when this phone will be available from AT&T you can be sure we'll let you know. You can see our previous post on the LG Optimus G Pro for AT&T here. Are you an AT&T customer considering a new smartphone? If so, let us know which handset you are thinking of purchasing, and why?