iPhone 5C white and blue combination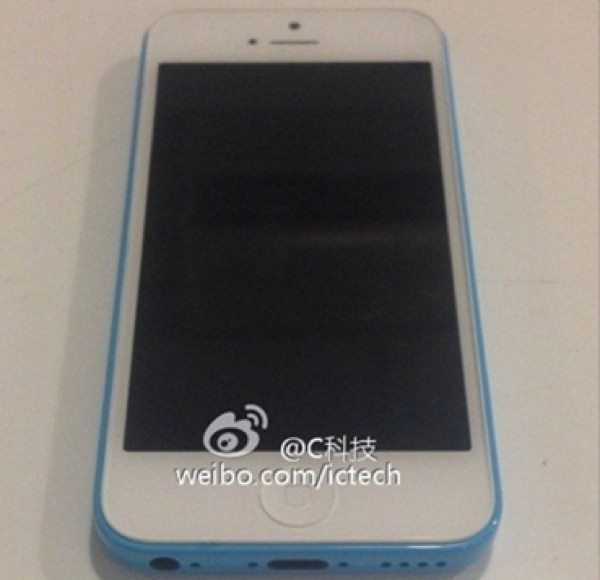 The closer we get to the expected September reveal of the iPhone 5C and iPhone 5S, the more leaks we are seeing about both devices. The iPhone 5C smartphone is rumored to be a budget iPhone in plastic, and today we have a leaked image that is claimed to be of the iPhone 5C in a white and blue combination.
Although we first doubted rumors of a lower-cost iPhone, over recent weeks leaks and news about this phone have become more prolific. So much so, that it now seems very likely indeed that the iPhone 5C is on the way. Recently we saw a leaked empty casing of the iPhone 5C, and it has previously been said that the cheaper iPhone could come in a variety of colors.
The image below shows what is purported to be the iPhone 5C in blue and white, but please bear in mind that we have no way of verifying whether this is the real deal at this stage. With so many leaks seeping out of the woodwork it will be difficult to know anything about the device for sure until Apple officially introduces it.
However, it could certainly be the genuine article and does seem to tie in with previous leaked images we've seen. One analyst has recently suggested a price point for the iPhone 5C, and we told how there has been speculation that it will replace the iPhone 4 and iPhone 5 as a mid-range handset, leaving the premium spot to be filled with the iPhone 5S.
An event where we expect to see the official introduction of the iPhone 5C and iPhone 5S is due to take place on September 10. It shouldn't be too much longer then until we can give you confirmed details of specs, release date and pricing for both devices. Are you keen to hear more about the iPhone 5C, or maybe your interest only lies with the high-end iPhone 5S?
Source: Phone Arena