Nokia Lumia 620 Protected Edition adds ruggedness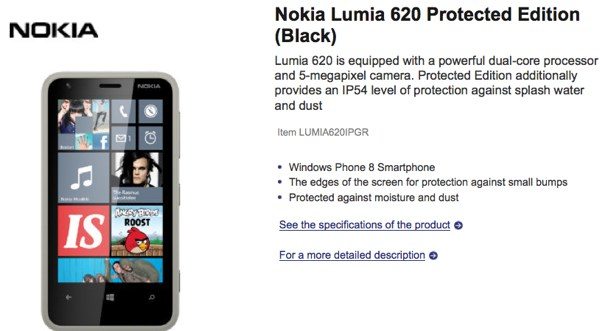 If you fancy a Nokia Lumia handset but want it with a little more toughness than usual, then Nokia has just come up with a package that may interest you. The Nokia Lumia 620 Protected Edition adds ruggedness to the device, but rather than the handset itself being water and dust resistant the Protected Edition consists of a case with the Lumia 620 that adds protection.
The Lumia 620 is an affordable Windows Phone 8 handset, and the Protected Edition case has IP54 certification and offers protection against dust and water splashes. Don't be misled that the Lumia 620 will be able to recover from water immersion, but the phone and case together will be able to withstand more than the phone alone.
The Protected Edition is available online via two Finnish retailers (below) and the bundle costs €239. Rather strangely, the phone is sold separately at €198 with the case on its own priced at €25, which seem rather odd as this actually works out cheaper.
If you want a refresher on the specs of the Lumia 620, it has a 1GHz dual-core processor, 3.8-inch display with resolution of 800 x 480, 512MB of RAM, and 8GB of internal storage, expandable via microSD to 64GB. It also totes a 5-megapixel rear camera, a VGA front-facing camera, and a 1300 mAh battery, and it runs Windows Phone 8, upgradable to WP8 Amber.
Are you interested in a Nokia Lumia device that that is more robust than usual? Maybe you feel the Nokia Lumia 620 Protected Edition is worth an investment? Let us have your comments on this.
Source: Gigantti AND Verkkokauppa (both Google Translated) Via: Phone Arena