HTC One Max Ultra shows real promise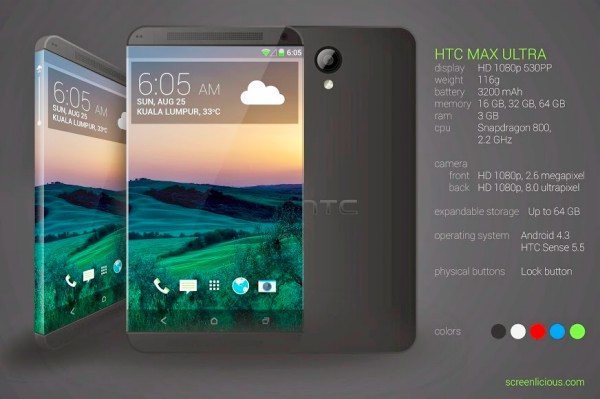 Some readers will have heard about the HTC One Max smartphone that is due to release in fall. There's a lot of anticipation for this phablet device that is rumored to have a sizeable 5.9-inch display. Today we want to show you the HTC Max Ultra, a concept design possibly inspired by the idea of the HTC One Max.
Recently we showed a leaked image purporting to be of the upcoming HTC One Max alongside the HTC One and HTC One Mini. The image showed the One Max is likely to look very similar to the standard HTC One, but in a larger size and possibly with a fingerprint sensor. The HTC Max Ultra design that we're showing you here shows no resemblance, but it's a very cool design with real promise so we thought it would be interesting to share it with readers.
We enjoy looking at concept renders as they can give us some ideas of what may be offered in future smartphones, and we wonder how many readers might like to see the HTC Max Ultra as a real device? The designer is Nikolai Prettner, and he also came up with some specs for his Max Ultra. These specs include a 2.2GHz Snapdragon 800 quad-core processor, 3GB of RAM, and 16, 32 or 64GB of internal storage, expandable via micro SD.
Further specs for the HTC Max Ultra are an 8-megapixel rear camera, 2.6-megapixel front-facing camera, and a 3200 mAh battery, while it runs Android 4.3 Jelly Bean with the Sense 5.5 UI. A real point of interest is the wraparound screen with Full HD resolution and 530 ppi, although the actual display size isn't given. The Max Ultra weighs just 116g and the designer has even included color options of black, white, red, blue and green.
On his Google+ page Prettner states that he was bored so came up with this design, but we think this is a really impressive concept for an HTC device and are interested to see further ideas from this young designer. We'd really like to know what you think of this HTC Max Ultra concept? Would you love to see a real phone developed with this design? Send your comments to let us know.