HTC One Max spot suggests fingerprint scanner accurate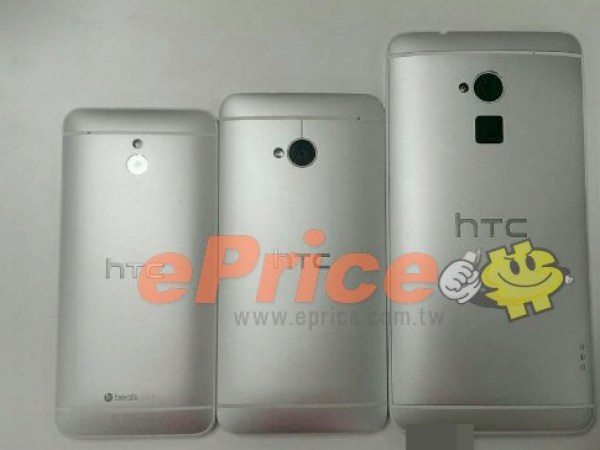 We've been bringing readers as much news as we can regarding an upcoming HTC phablet, the HTC One Max. This smartphone is rumored to have a whopping 5.9-inch display, and some time ago we heard that it could include a fingerprint sensor. A new image leaked today that purports to show the HTC One Max suggests that these fingerprint scanner rumors were accurate.
This is not the first time we've seen a leaked image that claimed to be of the HTC One Max, although some previous photos were discredited. This latest leaked image is supposedly the HTC One Max lined up with the standard HTC One and the HTC One Mini. Apart from the obvious size difference, another differentiation between the three handsets is that the largest phone seems to show a square fingerprint sensor on the rear.
This has been rumored before, and is also a feature heavily rumored to be coming to the iPhone 5S when it releases in fall. The HTC One Max is also likely to be released in fall and hopefully it will be formally introduced soon. As you can see from the image here, the HTC One Max has the aluminum unibody design that also features for the standard One and One Mini.
Leaked specs so far for the HTC One Max include a 2.3GHz Qualcomm Snapdragon 800 quad-core processor, 5.9-inch Full HD display, UltraPixel rear camera and 2.1-megapixel front-facing camera. More recently it's also been rumored that the HTC One Max might have expandable storage via a microSD card slot, unlike its smaller cousins.
We will point out that at present we have no way of being able to verify this leaked image or the above specs, but it shouldn't be too much longer before we hear the official news about the HTC One Max. Are you hoping that these rumors on specs and a fingerprint sensor for the HTC One Max are accurate? Is the HTC One Max a device that you might consider as your next choice of smartphone?
Source: ePrice (Google Translated)