HTC One Max aka T6 blueprint and Q3 release news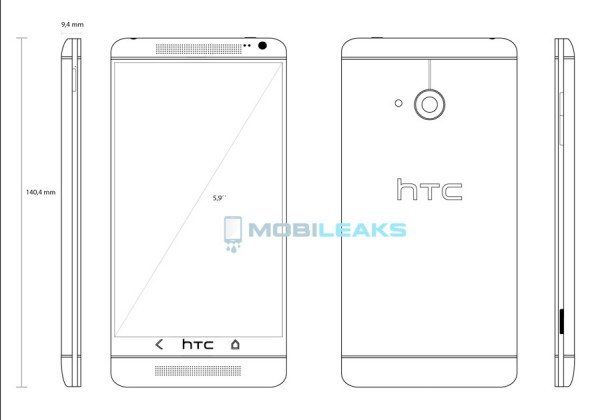 Some readers may already have heard of the HTC One Max, which until recently was dubbed the HTC T6. This upcoming smartphone sounds pretty impressive, and today we have a claimed blueprint of the device to show you. The same source also cites a Q3 release for the HTC One Max and adds a few more details to earlier rumored specs.
We've previously given some leaked specs for the HTC One Max and more recently took a look at it compared to the upcoming Samsung Galaxy Note 3. Although this is not an actual photo of the device we can show you a blueprint sketch of the HTC One Max (below) that reveals some of the dimensions of the handset. This blueprint shows it to be 140.4mm in length and 9.4mm thick and reveals a display size of 5.9-inches.
We can also see that the HTC One Max will have very slim bezels and the two front-facing speakers that have been rumored, known as Boom Sound, are also depicted. The same source also lists a 2.3GHz Qualcomm Snapdragon 800 quad-core processor, full HD display resolution of 1920 x 1080, 3300 mAh battery and an UltraPixel camera, as on the existing flagship HTC One.
Much of this tallies with specs we have previously reported although we have also heard of 2GB of RAM and 16GB of internal storage for the device, along with expandable storage via microSD. As well as this we've also heard mention of a 2.1-megapixel front-facing camera, 1250 mAh protective case and possibly a rear fingerprint reader.
According to the source it will run either on Android 4.3 or 5.0, often referred to as Key Lime Pie. A release for the HTC One Max is scheduled for Q3, and it will be available in regions worldwide. This release timing is likely to see it launch at approximately the same time as the Samsung Galaxy Note 3, which could make for an interesting competition to follow.
You can be sure we'll be following all of the developments of the HTC One Max over the next few months, and it looks like an exciting time ahead for fans of phablet-style Android smartphones. Do you like what you've heard about the HTC One Max (T6) so far? We're always interested in what our readers have to say, so do send us your comments about this.
Source: MobiLeaks (scroll down for English translation)