Samsung Galaxy S4 Mophie Juice Pack now released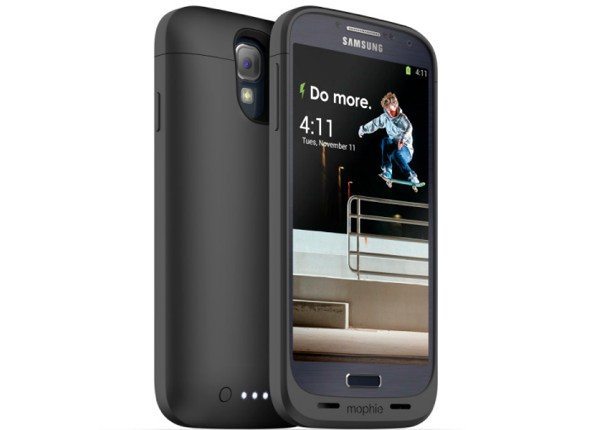 At Phones Review we like to keep readers informed about some of the best accessories out there and the Mophie Juice Pack is one of the best. Many people have been waiting for the Samsung Galaxy S4 Mophie Juice Pack and it has now been released. We have some details and the price up ahead.
Something that concerns some smartphone users is running out of battery power and the Mophie Juice Pack battery case is the perfect answer to that. It's a case and battery combined that can recharge the battery of your phone. The Galaxy S4 Mophie Juice Pack comes in black or white color options and is priced at $99.99. A pink version will also be available in the future.
This Galaxy S4 accessory is embedded with a 2300 mAh battery that gives around 80% extra battery power. With one simple switch you can add around 13 hours of talk time, 7 hours of video playback, or 6 hours of browsing. Cleverly, it's possible to charge the phone without removing it from the case. There's a 4 LED status indicator for the Juice Pack battery, and this lets you know when it's charging the device, being recharged or is on standby.
The case also offers protection from the bumps and scrapes of everyday life. Dimensions of the Mophie Juice Pack are 2.92-inches x 5.91-inches x 0.66-inches and it weighs 4.59 oz and comes with a micro USB cable. You can see a video below this story that shows the Mophie Juice Pack for the Samsung Galaxy S4. If you want to check out the full details or order this accessory head to the product page at Mophie here.
Do you have the Galaxy S4, and will you be ordering the Mophie Juice Pack? Maybe you've used a Mophie Juice Pack before for the Galaxy S3 or another device? Let us know what you think of this accessory with your comments.