Buy Nexus 7 2 in UK now, plus more regions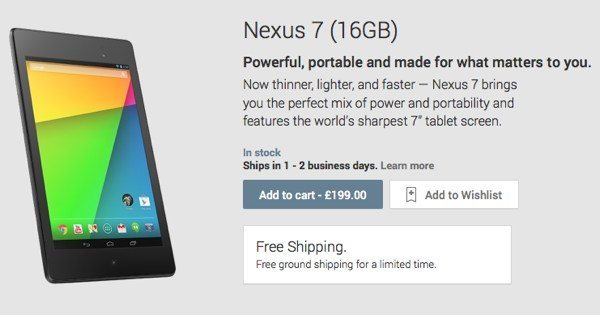 If you're in the UK and have been patiently waiting to get your hands on the new Nexus 7 tablet for 2013 then we have some good news. The tablet has released on Google Play and you can buy the Nexus 7 2 in the UK now, plus availability is also spreading to more regions.
The new Google Nexus 7 Android tablet (made by Asus) is a notable device and is priced extremely competitively. The 16GB and 32GB models are now on sale through Google Play UK at £199 and £239 respectively. Prospective UK customers for the Nexus 7 2 who registered to receive updates should be receiving emails from Google about availability other than via Google Play.
Other UK retailers tipped to be selling the device include Amazon, Argos, Currys PC World, John Lewis and Tesco, though availability may vary depending on individual stores. We've just checked availability on the Google Play Store UK, and both storage models are in stock and will ship in 1 to 2 days (16GB model here or 32GB model here).
Customers in the US and Canada were able to get hold of the device earlier than in the UK, and availability is now spreading to further regions. The Nexus 7 2 has now gone on sale in France, Germany and Spain at a price of €229 (16GB) or €269 (32GB). The tablet is now available in Japan too at a price of 27,800 yen (16GB) or 33,800 yen (32GB).
If you want to find out much more about the new Nexus 7 tablet for 2013, then why not take a look at our previous articles linked to here. Are you hoping to buy the Google Nexus 7 2? What is it about this tablet in particular that you find appealing?