iPhone 6 video switching feature possibility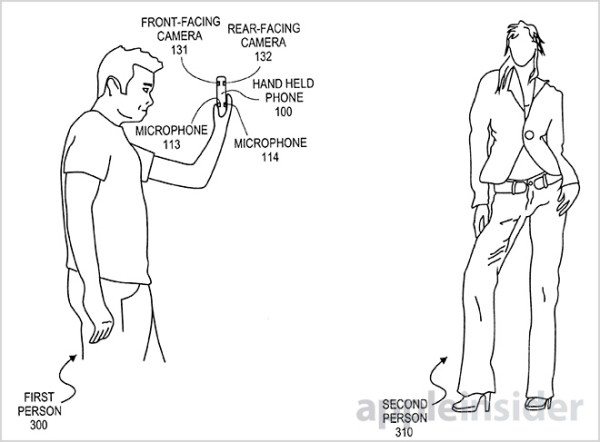 There's a lot of attention right now on the new Apple iPhone 5S that is due to be announced on September 10. However, we also like to look ahead to further iterations of popular devices and are already considering potential inclusions for the iPhone 6. A new prospect arose today with the news of an iPhone 6 video switching feature possibility.
Every now and then we like to look at details of new patents that have been lodged by Apple, as they can give us some clues for future features on devices. A patent application that has now been published regards video capture technology that could not only mean an iPhone could process front and rear camera video at the same time, but could then automatically control which stream would be fed, depending on voice and visual cues.
This video switching feature is the subject of an Apple patent application titled "Automatic Video Stream Selection" that has just been published by the USPTO today. The system would be able to decide whether the video feed from the front or rear camera would be used, with the potential of this technology being utilized in video calls such as FaceTime or locally-stored content.
Some new smartphones have had the capability of simultaneous video capture with both cameras of the device, but so far this has not been included in the iPhone and users need to toggle between the two. Bandwidth restrictions currently in place creates difficulties in streaming both feeds simultaneously, so Apple's method would offer the ability to automatically determine which one to use, while at the same time allowing audio to be kept in sync.
The technicalities of this idea are pretty complex, so if you want to read more of the intricate details then head to Apple Insider. There are hardware restrictions that could determine how soon this new technology could be used, although it is heavily dependent on software. It doesn't seem likely that it will appear for the upcoming iPhone 5S though. The iOS 7 beta doesn't support this kind of functionality, although there's a very slim possibility that components for this capability could be built in to the next iPhone.
At this stage it looks more likely that this new video switching feature could make it to the iPhone 6 in 2014, although we cannot say for sure, and in fact Apple may end up never using the technology in any device. It's an intriguing possibility though, and we'd welcome your thoughts on this. Do you think automatic video streaming selection would be a useful inclusion for the iPhone 6?