Samsung Galaxy S4 vs Motorola Droid Ultra showdown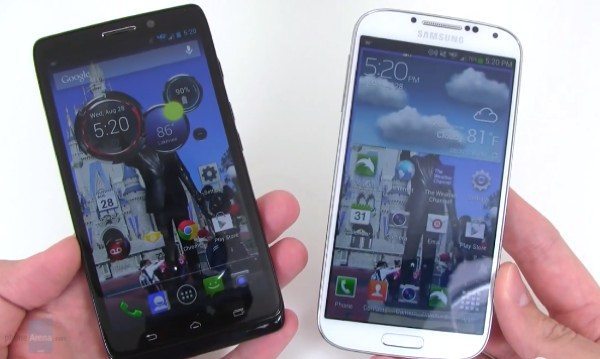 The Samsung Galaxy S4 is a globally successful smartphone and has sold in droves since its release earlier this year. New Android competition for the Galaxy S4 comes in the way of the Motorola Droid Ultra, recently released on Verizon. If you're considering purchasing either of these smartphone then you may like to check out a new video that we have for you today, a Samsung Galaxy S4 vs. Motorola Droid Ultra showdown.
Before you check out the video we'll give you some of the key specs of each device, so that you have a general idea of what each has to offer. Starting with the Galaxy S4 this is powered by either a 1.9GHz Qualcomm Snapdragon 600 quad-core processor, or a 1.6GHz Exynos Octa-core processor (regions vary), has a 5-inch Super AMOLED display with 1920 x 1080 resolution and 441 ppi, 2GB of RAM, and 16GB, 32GB of 64GB of internal memory, expandable via microSD.
The Galaxy S4 also has a 13-megapixel rear camera, as well as a 2-megapixel front-facing camera, a removable 2600 mAh battery, and runs the Android 4.2.2 Jelly Bean operating system overlaid with Samsung's TouchWiz UI.
Moving on to the Motorola Droid Ultra, this phone has a 1.7GHz Qualcomm Snapdragon S4 Pro dual-core processor, a 5-inch Super AMOLED display with 1280 x 720 resolution and 294 ppi, 2GB of RAM, and 16GB of internal storage (non-expandable). The Droid Ultra has a 10-megapixel rear camera, 2-megapixel front-facer, a 2130 mAh battery, and runs Android 4.2.2 Jelly Bean.
The 17-minute YouTube video that we have embedded for you below this story offers a really good look at both of these devices and highlights some of the differences and similarities. Both phones cost $199.99 on the usual two-year contract on Verizon, and the video begins with a look at the design of the two handsets. When moving on to the display a key difference noted is the resolution, as the Galaxy S4 offers a Full HD display that the Droid Ultra lacks.
The video proceeds with a look at the interfaces and functionality, features, and benchmark tests and then compares the camera set-ups of the two phones. Call quality and battery life are also discussed and the removable battery of the S4 could be an advantage for heavy phone users. We won't give away the ultimate conclusion as you can check that out for yourself, and the phone that you may eventually opt for will be very much a choice of personal preference.
Are you considering purchasing the Samsung Galaxy S4 or Motorola Droid Ultra? Going by this video comparison, which would you choose and why? Comments are always welcome.