iFunny app for Android ok, App Store MIA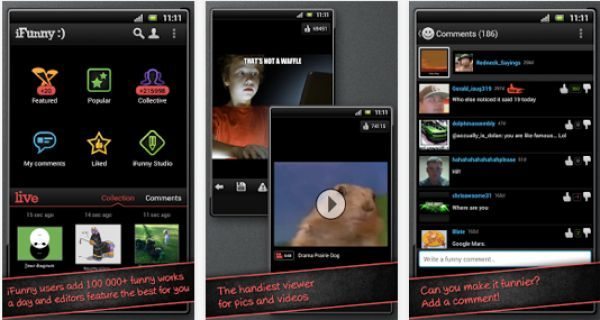 For those that have heard about the iFunny app will have now learned that Apple has removed it from the App Store, the only way you can now get this application is by owning an Android device.
There have been a few reasons why the iFunny app is no longer available via the App Store, some say that it will arrive back on the App Store soon because there is a temporary shortage, some have said it was due to being overwhelmed with Twitters, Kiks, Instagram and Facebook as well as a few Illegal things such as explicit findings.
Phones Review will try ad get to the bottom of why it was removed for the Apple App Store; in the meantime if you are an Android user you can install the iFunny app right now.
The iFunny app for those that are not in the know is an application that apparently adds a little bit of fun tailored to your taste, once you have installed this app you will get daily giggles with funny pictures and videos to make you laugh.
The app promises to provide funny things but we do have to WARN you that some can be a little too forward if you know what we mean, the app shares jokes as well covering things like Justin Bieber, Temple Run, Sex, Nude Girls, Boobs, Celebrities such as Selena Gomez, Chuck Norris and so much more.
One Android user did say "It's Okay, I love that there's funny pics but there's also people posting nude pics in the collective and it really gets annoying. There are 10 year olds in this app and they are not allowed to see this, please double check peoples pics before it gets published then I will change it to 5 stars," Phones Review would like to point out that nude pictures do pop up a lot so it would be in your best interest as a parent to stop your child installing this app until these have been removed or some sort of lock system has been added to the app.
This is a funny app, but should be used with a little caution if you are easily offended. For more information about the iFunny app please visit the Google Play Store here.
Users have commented saying that the developers should check all pictures before they go public, it seems that users do not want to see nude images.
What do you think of the iFunny app?